Traficant stays defiant: 'They had to cheat to convict me'
Jim Traficant @ Mr. Anthony's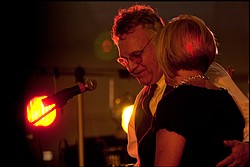 Gallery
9.6.2009 Jim Traficant speaks, signs autographs and takes photographs with supporters at Mr. Anthony's on Sunday evening.
BOARDMAN -- As defiant as ever, ex-U.S. Rep. James Traficant Jr. criticized the federal government, particularly the FBI and IRS, in a 15-minute speech today at an event to welcome him home from prison.
Traficant made no apologies for his actions to the crowd of about 1,200 at Mr. Anthony's banquet hall.
"I wouldn't change one thing,' he said. "They had to cheat to convict me."
Traficant also said, "I was a quarterback, a congressman, and I'm a convict. I have one hell of a pedigree."
The former congressman quoted Nelson Mandela as saying "If you want to know the true nature of a country, you must go through its prisons. I've seen America, and I don't like it."
While not being specific, Traficant also criticized the U.S. government for its ongoing wars in Iraq and Afghanistan.
"Our children are being shipped back in body bags," Traficant said.
He added that because people fear the government, they are not critical of it.
He said he vows to be vocal about what he sees are injustices perpetuated by the government.
Traficant also promised to make some "significant statements'' when he appears on the Greta Van Susteren show on Fox News network 10 p.m. Friday.
Earlier reports from event organizers that said dinner patrons would need to pass through metal detectors were incorrect. There were no metal detectors.
The event is scheduled to continue at the South Avenue banquet hall until 7 tonight.
Read the full story Monday in The Vindicator and on Vindy.com.