Sen. Brown defends need for health-care reforms
The public option would make private insurers behave better, he told an audience of 434 at YSU.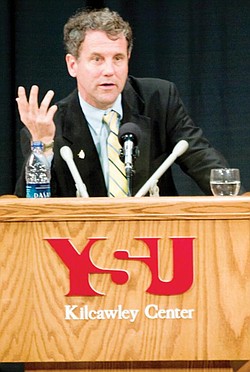 Photo
U.S. Senator Sherrod Brown at YSU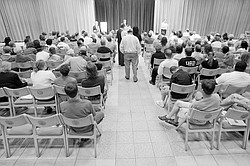 Photo
U.S. Senator Sherrod Brown at Youngstown State University
YOUNGSTOWN — Everyone in the room Thursday night at Youngstown State University's Kilcawley Center likely knows someone who's been through it — a health-care crisis, said U.S. Sen. Sherrod Brown.
Everyone could point to cases where people are discriminated against because of age or a pre-existing condition, or cases where people have found their health insurance canceled because it exceeded a cap, said Brown, D-Ohio.
"The status quo isn't working" for families or businesses, he said.
At a lecture sponsored by the Center for Working Class Studies at YSU, 434 people listened to Brown as he talked about the need for health-care reform.
The event was not a town hall meeting like the ones in August where legislators took questions from members of the public, though questions were permitted after Brown spoke.
The senator began by praising unions, saying they fought for reforms that brought clean water and air, a prohibition of child labor, pure food laws, women's rights and rights for disabled people.
He touched on the legacy of Sen. Edward Kennedy, who died Aug. 26, saying Kennedy chose him to serve on the Health, Education, Labor and Pension Committee, which wrote the Senate's health-care bill.
Brown also helped write a public health-care option that would be competition for private insurers.
Low-income families and individuals who can't afford insurance would "have lots of help from the government," with subsidies for the public option or private insurance companies, Brown said.
The competition from the public option is important, he said, pointing out that "In Ohio, one or two insurance companies control 80 percent of the market."
He also defended the government's ability to operate a public program.
"It's amazing, when I hear insurance executives say ad nauseam that government can never do anything right," he said.
He said Medicare's administrative costs are far lower than those of private companies.
Brown also decried conservative Republicans who have engaged in "fear-mongering" with talk of death panels.
He said he believes those tactics have backfired, with more people now supporting reforms.
Not everyone was convinced.
"I'm concerned. If we try to cover everyone ... how is this not going to bankrupt the system?" asked Andrew Smith of Liberty.
"Don't confuse universal coverage with single-payer," Brown replied.
"The public option won't put private companies out of business. It will make them behave better."
Jeremiah Blaylock of Canfield asked what can be done to simplify the issue so everyone can get health care.
"Listen to the president," said Brown, referring to President Barack Obama's upcoming address to Congress and the nation Wednesday night.
"If you have insurance, you can keep what you have, and if you don't, we're going to help you get it."
Congress is expected to vote on health-care reform this fall.
"The most important vote I will ever cast, I believe, is the one I will cast this fall in favor of this health-care plan," he said.
Starmack@vindy.com