Army Sgt. David A. Showers Jr. arrived home in time to celebrate his daughter's ninth birthday.
By WILLIAM K. ALCORN
VINDICATOR STAFF WRITER
Welcome Home Daddy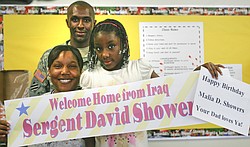 Video
The family Sgt. David A. Showers Jr. of the Army has planned a surprise for the soldier's daughter, Malia, a fourth-grader at Frank Ohl. It is her birthday, and her father is coming home from a tour in Iraq. She doesn't know he's coming home. And will spend his first day back in the states with her at her birthday party
AUSTINTOWN — Malia Showers' eyes opened wide with surprise and joy when her soldier dad, whom she hadn't seen for a year, walked into her room Wednesday at Frank Ohl Intermediate School.
Malia jumped up from her desk and hugged her father, Army Sgt. David A. Showers Jr., who had arrived that morning at Akron-Canton Airport, home from his fourth tour in Iraq.
"The best birthday ever," she said with a shy smile.
Wednesday was Malia's ninth birthday, and her father entered the room just as she and her classmates started to celebrate with cake and snacks. He joined in with the class in singing "Happy Birthday" to her.
Father and daughter kept in touch by e-mail and telephone, but Wednesday was the first time they had seen each other in person in a year.
"I love her and missed her. I promised her I was going to make it home for her birthday," said Showers.
But it was a close thing.
The Army didn't want to cooperate until the last minute, Showers said.
Members of the Showers family, including David's mother, Audrey Showers, his aunt, Rose Wilkins, and his uncle, Larry Clark; and Sylvia Payne, Malia's mother, all of whom came to the school Wednesday; were in on arranging Sgt. Showers' surprise visit to Malia's fourth-grade class for the birthday celebration.
Malia said she had no idea her dad was coming home. The family said it wasn't easy keeping it a secret, especially as they were so anxious to see him themselves.
"I was almost in tears, I wanted to tell her so bad," said Malia's mother.
"I have been overwhelmed all week. I couldn't sleep. He's been gone for a year. I couldn't wait for him to get home," David's mother said. His father is the Rev. David Showers.
"I was so touched by the moment when they saw each other. I'm so proud of my son," Audrey said.
Showers will get some good home cooking while he is home, said his mother, who said she thought her son looked a little thin.
She said a family picnic is planned, along with other family activities, and she is going to cook because he "misses his mom's cooking."
Showers, a nine-year Army veteran and a 1999 graduate of Calvary Christian Academy, said he plans to spend most of his time with Malia during his week's leave before he reports back for duty at Hunter Army Airfield near Savannah, Ga.
"I appreciate everybody keeping this a secret and making it a special day for my daughter," he said.
alcorn@vindy.com