AFTER 7 YEARS, 1 MONTH AND 3 DAYS, Traficant coming home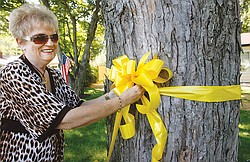 Photo
CELEBRATION: Linda Kovachik, former James A. Traficant Jr. congressional staffer, has tied yellow ribbons around her trees in anticipation of his release from prison.
Traficant: His life and trials
The ex-congressman, his wife and possibly other family members will take a brief vacation before coming home, a close friend says.
By DAVID SKOLNICK
VINDICATOR POLITICS WRITER
YOUNGSTOWN — After more than seven years as a federal prisoner, former U.S. Rep. James A. Traficant Jr. was to be a free man today.
While he'll no longer be an inmate after leaving the Federal Medical Center in Rochester, Minn., his return to his home in Poland won't be immediate.
Tish, his wife, and possibly other members of his immediate family were to meet Traficant today at the Minnesota facility and "go on a little vacation," said Linda Kovachik.
Kovachik is a longtime family friend and former Traficant congressional staffer, who spoke to Traficant's wife Tuesday.
Traficant's wife declined to comment when contacted Tuesday at her home by The Vindicator.
It's going to have to be a short vacation for the Traficants.
On supervised release for the next three years, Traficant must report to the U.S. Parole Commission office in downtown Youngstown shortly, said Tom Hutchison, the commission's chief of staff, based in Washington, D.C.
The commission's rules require ex-cons to report to the parole commission no later than 72 hours after his release, Hutchison said.
But that would be Saturday.
"My hunch is they'll let it go till Monday," Hutchison said. "He should check in by then unless he's made previous arrangements" with Youngstown parole officials.
Debra White of the Youngstown parole commission office couldn't be reached to comment.
"He should be home this weekend," Kovachik said.
Regardless of when Traficant comes home, his supporters are thrilled that he's no longer in prison.
Kovachik tied yellow ribbons around trees outside her Boardman home and placed old Traficant political signs in her yard to commemorate his freedom.
"I'm very excited about his return and so happy he's coming back," said Kovachik, who was by Traficant's side for nearly all of the former congressman's 2002 trial.
A "Jim Traficant Appreciation Dinner" Sunday at Mr. Anthony's in Boardman will celebrate the ex-congressman's release.
About 1,050 of the 1,200 tickets available, at $20 each, are sold, said Tony Trolio, who is helping to organize the event with Kovachik.
"We're excited he's getting out," Trolio said.
The party has drawn criticism from some circles.
Austintown Trustee David Ditzler, a former Mahoning County Democratic chairman, said the event makes Traficant sound like "some kind of hero coming back from war."
In response, Trolio said: "We're just having a party. He's a friend of ours. If you had a friend who went afoul, would you stop supporting him? We're not calling him a hero. He's back, and he's paid his dues and we're his friends."
A jury convicted Traficant on all 10 felony counts he faced, including racketeering, bribery, obstruction of justice and tax evasion.
The jury found Traficant guilty of accepting free labor, materials and money from businessmen in exchange for congressional favors.
Traficant also took kickbacks from his staff and required some of them to work on his family farm and house boat on government time, the jury decided.
Traficant, who defended himself though he's not a lawyer, received an eight-year prison sentence. He served a little more than seven years and one month, his sentence reduced for good behavior.
Paul Marcone, a lobbyist in Washington, D.C., who served as Traficant's chief of staff during much of the congressman's tenure in the U.S. House, is pleased his old boss is out of prison.
"He was one of the best politicians I ever met," Marcone said. "He was genuine. He was not your typical D.C. politician. He knew the names of the Capitol police officers, the janitors and the cafeteria workers. He loved regular people. He preferred their company to the wealthy and powerful. He was a once-in-a-lifetime politician."
It "would be a tragedy if he were remembered for his crimes and [for] being expelled from Congress," Marcone said.
"You don't gloss over that, but he was genuine. He was a fun boss. Unpredictable, but passionate."
Marcone said he was surprised at the magnitude of the 10 felony counts that Traficant faced.
"It was like finding out your dad was a drug dealer," Marcone said. "He was a father figure to me."
Traficant would do a great job as a radio or television talk show host, Marcone said.
"I wish him nothing but the very best," he said.
Others who were close to Traficant declined to talk about him.
U.S. Rep. Steven C. LaTourette of Bainbridge, R-14th, considered one of Traficant's best friends in Congress, wouldn't comment on the release.
During Traficant's congressional expulsion hearing and vote, LaTourette tried several times to postpone the decision.
LaTourette, then a member of the House ethics committee that recommended expulsion, told The Vindicator in July 2002 that Traficant was targeted by the federal government. But he still voted to kick Traficant out of Congress based on the evidence presented during the hearing.
LaTourette requested to see Traficant in prison in December 2002. Traficant refused the visit.
U.S. Rep. Tim Ryan of Niles, D-17th, worked for Traficant and succeeded him in Congress.
Ryan refused repeated attempts by this newspaper to comment on Traficant.
His office released this statement on behalf of Ryan: "Jim Traficant has served his time, and I wish him well as he returns to private life. He has a lot of catching up to do and deserves his privacy as he reacquaints himself with his grandchildren, family and friends."
State Rep. Ronald V. Gerberry of Austintown, D-59th, won't attend Sunday's party. But he says there's no reason to object to the event.
"I don't think it's a big deal," he said. "We should just leave this man alone."
It's unlikely Traficant will attend Sunday's event.
Mahoning County Commissioner Anthony Traficanti, who served as Traficant's regional director, didn't return telephone calls seeking comment on Monday and Tuesday.
Claire Maluso, who worked for Traficant, declined to comment. Columbiana County Democratic Party Chairman Dennis Johnson, who also worked for Traficant, didn't return a telephone call seeking comment.
Also, Mahoning County Commissioner David Ludt, a Traficant friend who testified on behalf of the congressman during his 2002 trial, didn't return telephone calls to discuss the former congressman.
skolnick@vindy.com
It isn't known how Traficant will return to the Mahoning Valley, but his wife, Tish, is expected to pick him up and travel with him to their Poland residence. The two aren't expected to come home right away, according to Linda Kovachik, a close family friend and former Traficant congressional staff member. Here are some potential scenarios.
• Greyhound bus. A Greyhound leaves Rochester, Minn., at 10:25 a.m. today. Tickets are $122 each [$103.70 if booked with a credit card on the Internet]. If Traficant can't afford the cost, the Federal Bureau of Prisons will pay the fee. Passengers taking that 784-mile trip make 18 stops with transfers in Tomah, Wis., and Chicago.
• By car. A car ride from the Rochester facility to Traficant's home in Poland takes about 12 hours and 21 minutes. That trip is a little shorter than a bus ride, at 754.6 miles. The cost of the trip depends on the vehicle's mileage. A car getting 25 miles to the gallon at $2.50 a gallon would cost about $75 one way.
• By airplane. If Traficant wants to get home quickly, there's a flight on Midwest Express leaving Minneapolis at 5:55 a.m. today. A ticket for the flight is $249.40. There is a stop-over in Milwaukee on the flight, which lands in Pittsburgh and is 2 hours and 55 minutes long. This doesn't include the 1 hour and 45 minutes it takes to drive from Rochester to Minneapolis or the hour it takes to get from Pittsburgh to Poland.
Sources: Greyhound, Mapquest and Akron-Canton Airport Web sites