Peace Race Tips: Clothes make the difference
Peace Race Training Tip #6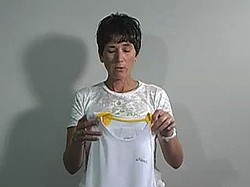 Video
Peace Race president Jenn Wohlgamuth gives a training tip for runners.
Week 6:
CLOTHES MAKE THE DIFFERENCE
We are six weeks in and I hope that you are feeling better than everyone around you. No, really you should feel like a million bucks. You are beyond the point of quitting and this is really going to become a way of life. I want you to buy yourself a present. Go ahead it doesn't have to be a big expensive one I just want it to be moisture wicking…sounds romantic doesn't it! Actually, next to your shoes the single most important piece of apparel that you should have is a moisture wicking shirt to help keep your body temperature regulated. Cotton holds on to moisture and it gets heavy. Running in cotton can also make you chilly on the cool fall mornings after you start sweating. Look for a fabric that is completely breathable, lightweight and some fabrics will even protect you from the UV rays. If you have any questions on fabrics, sports bras, shorts…etc just stop in to Second Sole and we will happily answer your questions!