Celebration 'is a slap in the face'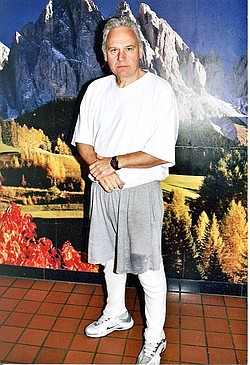 Photo
A recent photo of former U.S. Rep. James A. Traficant Jr. He is to be released from federal prison Sept. 2.
Supporters are 'trying to make him out to be some kind of hero coming back from war,' former Mahoning Democratic chairman David Ditzler says.
By DAVID SKOLNICK
VINDICATOR POLITICS WRITER
YOUNGSTOWN — Critics of James A. Traficant Jr. say the ex-congressman's release from prison and a party welcoming him home make it appear as though the Mahoning Valley embraces political corruption.
Traficant is to be released Wednesday from federal prison after serving a little more than seven years for racketeering, bribery, obstruction of justice and tax evasion.
About 1,000 tickets have been sold to an event Sunday at Mr. Anthony's banquet hall in Boardman to celebrate Traficant's release.
"They're trying to make him out to be some kind of hero coming back from war," said Austintown Trustee David Ditzler.
Ditzler was Mahoning County Democratic Party chairman from 1999 to 2002, relinquishing the position a few months before a federal court found Traficant guilty of all 10 felony charges he faced.
"The party is a slap in the face to the Valley," Ditzler said. "It's a little deplorable. I'm kind of appalled that there would be such an event."
During Traficant's seven-year absence, the Valley's image has "improved dramatically," Ditzler said.
He points to U.S. Rep. Tim Ryan of Niles, D-17th, who replaced Traficant in Congress, as being a leader and someone who's helped restore the area's longtime tainted reputation.
"This is not the time for our community to embarrass ourselves nationally" with an event to celebrate Traficant's release from prison, said state Rep. Robert F. Hagan of Youngstown, D-60th.
"Honoring him in any way, shape or form doesn't do the community any good," said Hagan, who lost the 2000 Democratic primary for a congressional seat to Traficant.
Despite being found guilty on all counts, Traficant has "never admitted guilt or apologized to his supporters or our community," Hagan added.
Traficant was also the fifth member of the U.S. House to be expelled, and only the second since the Civil War.
"I'm struck by the fact that some people feel all politicians are guilty of some form of corruption," Hagan said. "That's a slap in the face of those, like myself, who have integrity. Not all of us are corrupt. [But politicians are labeled that way] when you consider people who commit crimes to be heroes."
The welcome-home event for Traficant, who isn't expected to attend, though organizers invited him, will bring "national embarrassment" to the area, Hagan said.
"He served his sentence, but he hasn't paid a debt to this community," Hagan said of Traficant. "He owes an apology to this community and to say he did wrong."
Traficant has never acknowledged his guilt. During his sentencing in July 2002, Traficant insisted he did nothing illegal.
Tom Humphries, the Youngstown/Warren Regional Chamber's president and chief executive officer, recently criticized the upcoming Traficant celebration in a letter that appeared in Sunday's edition of The Vindicator.
Humphries also criticized Traficant.
"He is a convicted felon, someone who brought shame and ridicule to his office and to his community," Humphries wrote.
Richard J. Billak, chief executive officer of the Community Corrections Association, which operates a halfway house for inmates, said Traficant needs to let go of any anger he has and "appreciate his freedom."
Traficant had the option of reporting to CCA on March 9 to finish out the remaining time on his prison sentence.
Traficant chose to stay at the Federal Medical Center in Rochester, Minn.
That decision was made because Billak testified at Traficant's trial. Billak said he and his staff would have treated Traficant the same as any other federal inmate in the same position.
Traficant's refusal shows he hasn't changed much, Billak said.
As for Traficant's return to the Valley, Billak said, "Any disgraced public official is a mark against the Valley. Hopefully he'll be quiet and we can get past this."
Craig S. Morford, the lead federal prosecutor in the Traficant case, didn't return telephone calls Friday and Monday from The Vindicator seeking comment on the former congressman.
Morford is no longer a federal prosecutor. For the past year, he's worked as the chief compliance officer at Cardinal Health, a health care technology and supply company headquartered in Dublin, Ohio.
skolnick@vindy.com
See also: Reporter receives letters from Traficant
More like this from vindy.com