Boardman rallies, beats Fitch in OT
Boardman 24 - Fitch 21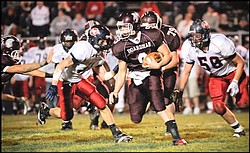 Gallery
By John Kovach
BOARDMAN — The outlook was bleak for the Boardman High football team entering the fourth quarter of its season final against Federal League rival Austintown Fitch on Friday night.
The Spartans, needing a win to secure a Division I playoff berth but struggling offensively against the Falcons, were mired in a 21-7 hole and looking for a life preserver.
Boardman eventually got its lifeline from an enlivened offense in the final quarter that was fueled by senior quarterback Rob Boyd and the tall and talented Hammond brothers, senior Chase and sophomore Dayne, and the Spartans rallied to tie the game in regulation at 21-21.
Then senior Trevor Ragan's 33-yard field goal on the fourth play of the first offensive series, coupled with Tyler Blangero's ensuing pass interception on Fitch's first overtime play from Boardman's 20-yard line, gave the Spartans a 24-21 victory before a packed house.
Boyd hit Dayne Hammond with a 58-yard touchdown pass after setting up the score with a 29-yard strike to Chase Hammond on the previous play following a punt, to pull Boardman within 21-14 after Ragan's placement.
Then Boyd, following another punt, hit Chase Hammond with a 69-yard scoring strike on the first play and Ragan's kick again was true to pull the Spartans even in regulation with 1:55 left.
Then Ragan delivered the game-winning kick and Blangero the game-saving interception in overtime and the Boardman celebration began.
The Spartans will likely meet Cleveland St. Ignatius in the first round of the playoffs.
Dayne Hammond also caught a 10-yard TD pass from Boyd in the second quarter and Ragan added the extra point to keep the Spartans in contention in the first half.
Boyd finished with 198 yards passing on 13-for-33 with two interceptions.
Boardman's comeback spoiled an outstanding performance by Fitch (6-4, 3-4) quarterback Jon Ballard, who threw a pair of TD passes to Terry Terrigno covering 22 and 42 yards and a solo scoring strike to DeAndre Richardson (23 yards), while Ken Burns added both placements, for the 21-7 command.
Ballard was 23 of 32 passing for 276 yards and two interceptions.
Another Spartan hero was senior tackle Ryan Phillis who broke into the backfield and sacked Ballard on back-to-back plays to foil the Falcons' last regulation offensive series and help create overtime.
Coach D.J. Ogilvie of Boardman (7-3, 5-2) believes his team came to life in the second half because a playoff berth was hanging on the line.
"We were spurred on by the chance to make the playoffs but I think we over-emphasized that too much during practice this week," said Ogilvie, who said the Hammond brothers also were a big part of the comeback.
"When you have two talented players like the Hammond, and they are 6-foot-5 [Chase] and 6-6 [Dayne], you have talented players who can make it happen," said Ogilvie, especially lauding Chase.
"It's just Chase Hammond. He made two incredible plays. He is a great athlete. He has great hands. And when you have someone like that, he can make things happen."
Hammond explained how he scored the game-tying touchdown.
"I ran across the middle and I broke a tackle off the middle linebacker and then I took off down the middle of the field," said Hammond, who is happy to be recovered from injuries he incurred last week.
"I had little head injuries and back injuries and I was bruised up last week against Canton McKinley," he said.
But perhaps the biggest hero for Boardman was Blangero, a senior cornerback who came through with the game-clinching interception of Ballard's pass on Fitch's first overtime play from the Boardman 20.
"I read the quarterback. I saw him looking at me and the receiver was right by me so I went to the receiver and made the interception," said Blangero.
Fitch took the early lead after Cam Patterson recovered a Boardman fumble on the game's first offensive series at the Spartans' 30. The Falcons drove the distance in four plays capped by Ballard's 22-yard TD strike to Terrigno and Ken Burns' placement for a 7-0 lead.
Boardman scored its first TD with 6:23 of the second quarter by driving 83 yards in nine plays capped by Boyd's 10-yard TD strike to Dayne Hammond and Ragan's kick.
Then late in the second quarter following a punt to the Fitch 32, Richardson gained 45 yards on the first play and then he scored on Ballard's 23-yard toss and Burns again connected to make it 14-7 in favor of Fitch at the half.
The Falcons expanded their lead to 21-0 at 7:02 of the third quarter on a seven-play, 68-yard march climaxed by Ballard's 42-yard TD aerial to Terrigno and Burns' placement.
kovach@vindy.com