Korean Taekwondo students earn several state-meet honors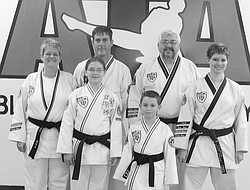 Photo
STATE CHAMPIONS: Six students of the Boardman ATA Black Belt Academy won state championships this year in Korean Taekwondo. Pictured (left to right), first row: Brandon Breznai. Second row: Kim Campos, Caitlin Currier, Brielle Campos. Third row: Shawn Menousak, Robert Long (academy owner). Missing from photo is Yianni Koulianos. All except Long won state titles this year.
By John Kovach
BOARDMAN — Kim Campos of Boardman said she liked Korean Taekwondo the first time she tried it.
"My daughter [Brielle] got me involved in it. She started when she was 11 years old and got me to join also," said Campos, 55, who has advanced to become a second degree black belt, two-time state champ and a program director at the Boardman ATA [American Taekwondo Association] Black Belt Academy where she started her career with her daughter.
"[Brielle] invited me into a self-defense class for parents and students and asked me to come. I just liked it right off the bat, immediately."
Kim said she felt "empowered" to know that she could defend herself against an attack.
"It was very empowering to know that there are simple techniques that anyone can do that can protect themselves, that there are also techniques that will enable you to get away from someone if they grabbed you. I like the idea of being able to take action and defend myself," Campos said.
She also said Korean Taekowondo is good for the whole family and very beneficial to children.
"It is family-oriented. It is something that empowers children and enables them to build their self-esteem. In this day and age, it helps to keep kids safe and allows them to protect themselves," said Campos. "Plus it is a lot of fun. We have students from 4 years old to 65."
Campos and Brielle, 19, who is a third degree black belt and certified instructor at the Academy, were among six students from the school to win Ohio State Korean Taekwondo championships this year.
Kim reigned in sparring and traditional form in her age class of 50-60-year-olds, while Brielle also won two titles in extreme forms and weapons for the second year in a row in her 17-29 age group.
Highlighting area performances was Caitlin Currier of Boardman, 10, a first degree black belt who won four state crowns in traditional sparring and weapons and extreme forms and weapons in her 10-12 age class.
Other state champs were Brandon Breznai of Struthers, 8, a first degree black belt, in 7-9 age bracket sparring; Yianni Koulianos of Campbell, 8, first degree black belt, in 7-9 extreme weapons; and Shawn Menousek of Campbell, 34, second degree black belt, in 20-30-year-olds sparring.
Menousek also is an instructor along with Robert Long, a fourth-degree black belt who also is head instructor and owner of the Academy.
Kim Campos explained that Korean Taekwondo is a style of martial arts in which students learn traditional forms, sparring and self-defense.
She said there are five different categories of competition: traditional form, traditional weapons and traditional sparring and extreme form and extreme weapons.
"In traditional styles, students must perform their belt rank material. In weapons and sparring, they must adhere to specific requirements while competing against an opponent," said Campos. "Competitors are judged on a list of criteria including presentation, flow, power, rhythm and control.
"In extreme weapons, students are judged on creativity of their forms, intensity, difficulty and control of the weapon. Students choose their own weapons [Ssahng Jeol Bahng-nunchucks, Bahng Mahng EE-Stick] and devise their own style and form and put it to music. They are judged on how creative they are and their control of the weapon and how unique their form is." she added.
Campos also said traditional sparring "is a chance for students to compete against other opponents using strikes, kicks and blocks to score points."
All six state champions won by compiling the most points for one year (June to June) in their respective classes, while competing in state tournaments in Ohio, Pennsylvania and Indiana.
The Boardman ATA Black Belt Academy has 150 members and is one of three such Academies in the area, the others being in Austintown and Hermitage, Pa.
kovach@vindy.com