Coroner: Early results indicate cheerleader died of natural causes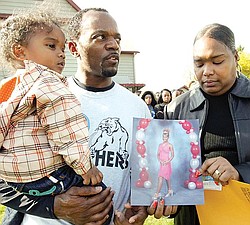 Photo
family: Crystal and Michael Howell hold a photo of their daughter, Jabraya, an East High School cheerleader who died Wednesday. Michael is holding Jabraya's brother, Michael Jr., 2, as they marked Jabraya's 17th birthday Thursday.
YOUNGSTOWN — The Mahoning County coroner said preliminary autopsy results show that the death of an East High School cheerleader Wednesday is due to apparent natural causes.
Dr. David M. Kennedy said a final ruling in the death of Jabraya Howell, 16, of Shirley Road, is pending laboratory test results.
Jabraya collapsed at an after-school cheerleader practice and efforts to revive her were unsuccessful.