SHUTOUTS PREVAIL: Poland overwhelms Canton McKinley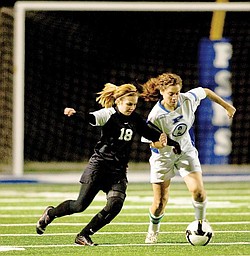 Photo
LAKE IS NEXT: Poland's Vivien Clayton, right, struggles to maintain control of the ball while defended by Canton McKinley's Tiara Smothers. Poland won and will play Uniontown Lake in the next round.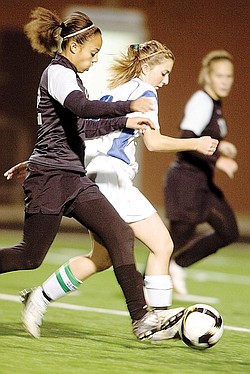 Photo
The Vindicator/Geoffrey Hauschild Poland's Vivien Clayton struggles to mantain control of the ball while defended by Canton McKinley's Tiara Smothers during the first half at Poland High School on Monday evening. 10.19.2009
Taylor Marucci scored twice in the Bulldogs' 8-0 romp to open the postseason.
By DOUG CHAPIN
Vindicator Correspondent
POLAND — Coming into the 2009 girls soccer season, second-year head coach John Cavalier and his Poland High squad had high expectations.
The Bulldogs met most of them in an outstanding 12-2-2 season, but there is one goal in particular that was not achieved.
"We haven't beaten Howland in seven years. That's been our stumbling block for seven years," Cavalier said of the team that handed Poland both of its defeats. "That was a goal of ours and we didn't accomplish it in the regular season. There's a chance we could meet them again in the tournament and, if that happens, I think it would be a great game."
Poland, seeded second (Howland is first) in the Division I sectional-district tournament, took the first step toward a rematch with Howland by blasting undermanned Canton McKinley, 8-0, Monday night at Dave Pavlansky Field.
The Bulldogs advance to a sectional bracket final Thursday night against Uniontown Lake.
Cavalier stressed the fact that a Poland-Howland district final is not a given.
"There are a lot of great teams in this tournament," he said. "You've got Fitch, you've got [third-seeded] Canfield, you've got [fourth-seeded] Boardman from this area, and you've got the teams coming out of Canton that are tough too."
McKinley is not one of those tough teams coming out of Canton. The Bulldogs were 1-14-1 on the season and dressed only 10 girls because of injury and illness.
Poland decided the contest early. Chelsea Conzett scored 35 seconds into the game, Taylor Marucci added a second goal just three minutes in and Tatum Marucci made it 3-0 before 10 minutes had ticked off the clock.
Kelsey Malenic and Rachael Ames scored later in the first half, and Poland got second-half goals from Taylor Marucci, Abbey Chandler and Abbie Frank.
Poland fired 41 shots, 29 on frame, compared to three shots for McKinley. Emily Niewiadomski made 21 saves for Canton.
Cavalier said he was happy with the second seed in the tournament.
"We thought we would get the second seed, or at least the third seed," he said. "Getting the second seed works out for us in that if we keep winning, we can play at home until the district final."
When the Bulldogs are playing well, they are adept at putting the ball in the net.
"This year we scored 51 goals which I think is the most in the area," Cavalier said. "We've only given up nine goals.
"But we've given up some goals at some bad times. Against Howland one game we gave up three, we really came out flat. Against Canfield we gave up two one night. So there's five of the nine goals right there."
Cavalier stressed that Poland's success this season has come from a solid team effort.
"Tatum Marucci, she's a junior, is a very good offensive threat for us, along with her sister, Taylor Marucci," he said. "Madison Gessler is the heart of our defense and we have a lot of young kids with her on the defensive end of the field.
"Alicia Taylor is another one, she didn't play tonight because she is injured. Hopefully we can get her back in a week or so.
"It's a whole team effort. We have a lot of kids that have stepped up, both younger and older. Viv Clayton, she plays well in the middle for us, and it's just a team effort."