After hometown victory, Lyell eyeing bigger bouts
Billy Lyell vs Chris Gray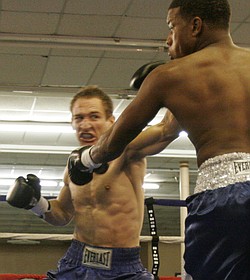 Gallery
Billy Lyell defeats Chris Gray in a 8 round bout in Niles, OH Oct. 17, 2009.
On Saturday night, the Niles native won his second fight since upsetting John Duddy in April.
By ERIC HAMILTON
VINDICATOR CORRESPONDENT
NILES — When he found out that his next fight would take place in his hometown, Billy Lyell was pretty excited.
He has had to travel all over for most of his bouts, so being able to sleep in his own bed and have the hometown crowd behind him, was an enticing proposition. In fact, it was maybe a little bit too exciting for the Niles native.
During Saturday night's NABC Inter-Continental middleweight title bout against Chris Gray (12-11), Lyell didn't score the knockout he was going for. Determined to put on a good show for his hometown fans, Lyell spent the first few rounds trying to land that big blow to end the fight.
When that didn't happen, he decided to settle in and start winning rounds. That approach paid dividends in the end, as Lyell had the upper-hand the whole way to score a unanimous eight-round decision as part of the October Fists event at the Eastwood Expo Center.
"I was happy that there was a nice crowd, but I wish I had done better in the fight," said Lyell, who improved to 21-7. "I just lost my focus a little bit trying to get the knockout. I expected a good, competitive fight and that's what I got.
"I felt a little sluggish in the later rounds and I know I have things to work on, but I know I clearly won the fight. It was nice to have the crowd behind me and not have to go into someone else's backyard for a change."
The bout was Lyell's second since his upset victory over John Duddy in April. For that fight, he was trained by Jack Loew, who trained Lyell back when he was an amateur.
Lyell has been training off and on with Keith Burnside and the duo worked together for the Gray fight on Saturday night.
"This was our first fight back together," said Burnside, of Struthers. "We're getting him in great shape and working on a few things. It was great that he was able to get his 21st win tonight.
"He just needed to use his jab a little more tonight. He was backing him up with it, but he kind of let it go. Billy was excited to be in front of the home crowd and he went for the knockout. But things are coming together and we're working well together."
Lyell, who is ranked No. 15 in the IBF, plans on staying in the Burnside camp as he continues to climb the middleweight ranks. He's hoping working with a trainer with a different kind of method will pay off.
"Every trainer has a different style," said Lyell. "Jack is a world-class trainer and I've worked with him for a long time. After the Duddy fight, I thought maybe a new set of eyes would help me learn different things. It's worked out so far."
Lyell defeated Duddy at 160 pounds and is ranked at that weight. But Saturday, he was back down to 154 pounds for the Gray bout. He feels he can compete at either weight and his handlers are looking at big fight opportunities wherever they come.
Lyell's manager Pat Nelson was recently over in Germany discussing a possible match with current IBF middleweight champ Sebastian Sylvester.
At 154 pounds, Lyell has current IBF junior middleweight champ Cory Spinks on his radar. Spinks may be thinking the same thing, as he attended the Lyell-Gray fight on Saturday.
"We're looking for a big fight, but the right big fight," said Lyell. "It's a weird situation because I feel comfortable at either weight. If there's an opportunity at 160 pounds, I'll jump on it. I want to stay busy and keep my ranking.
"After beating Duddy, I could have just sat back and only fought like two or three times this year. But I'm confident that I'm improving and I want to keep winning and make my own path."