Other plants prepare for Cruze launch
GM Lordstown prepares for the Cruze.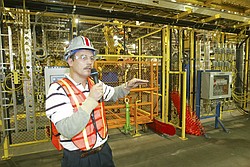 Gallery
GM Lordstown shows off preparations for the Cruze during a June 24, 2009 media tour.
STAFF REPORT
Lordstown isn't the only place that is preparing for the launch of the Chevrolet Cruze.
General Motors Co. said Tuesday that it is spending more than $230 million in four plants in the Flint, Mich., area to prepare for the Cruze and the Chevrolet Volt.
GM plans to launch the Cruze from its Lordstown complex in April, while the Michigan-built Volt is expected to appear later next year. The Cruze is expected to achieve about 40 mpg, while the Volt is a plug-in electric that can take short trips without using gas.
GM said that it is spending $202 million to renovate its Flint Engine South plant to produce the 1.4-liter engine generator for the Volt and a 1.4-liter turbo engine for the Cruze. The plant has 240 workers.
GM also said it is spending $30 million at its Grand Blanc Weld Tool Center to enable it to build the robotic cells that will weld the Volt body pieces at the assembly plant. The Grand Blanc plant, which has 200 workers, also built the robotic cells that have been installed in the Lordstown body shop to assemble the Cruze.
At the Flint Metal Center, GM is spending $1.7 million to refurbish press lines that will stamp sheet metal parts for the Volt. About 30 workers staff those lines.
At Flint Tool and Die, GM workers have designed dies that will be used to stamp metal parts for the Cruze and the Volt.
More like this from vindy.com