It's Play Time In Boardman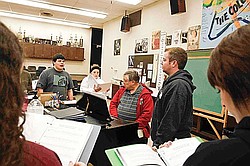 Photo
PRACTICE MAKES PERFECT: From left, Tyler Moliterno, Katelyn Deladurantey, Errol Kehrberg and David Mullane prepare for the Boardman Drama Guild's fall musical production. The group practices several days each week in the months leading up to the production.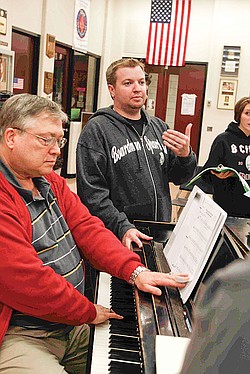 Photo
STAGE COACH: David Mullane, right with Errol Kehrberg, speaks to students at a rehearsal for the Boardman Drama Guild's fall production, "25th Annual Putnam County Spelling Bee." The guild tackles high-profile productions such as "Chicago" and "Footloose." In photo at top, from left, Tyler Moliterno, Katelyn Deladurantey, Kehrberg and Mullane prepare for the the fall musical. The group rehearses several days each week in the months leading up to the Nov. 19-22 production.
IF YOU GO|'Spelling Bee'
The Drama Guild at Boardman High School will present this school year's first production, a musical about the thoughts and emotions of children in a spelling bee.
What: "25th Annual Putnam County Spelling Bee" When: 7 p.m. Nov. 19-22
Where: Boardman Performing Arts Center, Boardman High School, 7777 Glenwood Ave.
Tickets: $10 for adults, $7 for senior citizens, $5 for students, available one hour before each show or in advance online at boardmandramaguild.com
High school drama guild pulls in popular and fresh productions, pushes out edgy content
By RICK ROUAN
VINDICATOR STAFF WRITER
The finished product in a Boardman High School Drama Guild show is typically polished by months of rehearsals.
Viewers might not guess what goes on behind the scenes to pull off the assortment of plays and musicals the group has performed over the last several years. Students learn the ins and outs of lighting and set work, but the more fundamental responsibility of choosing a play that is both interesting and appropriate for the audience can provide a real challenge.
"We want it to be a wholesome show that kids can do, but we also don't want to deprive them from doing shows they really like," said David Mullane, a Boardman High School teacher and faculty adviser to the group. "It's a constant back and forth."
Mullane draws on his professional experience locally and in other states to alter the shows for a high-school audience. As a result, the group has performed shows such as "Chicago" and "Footloose." Both musicals are relatively modern works that are easily identifiable, but they have some profanity that the guild has worked around.
The licensing agreements that the guild has for the shows stipulate the guild cannot add or change words, but it can cut parts out entirely, said Mullane, who's in his sixth year with the guild.
The guild will perform "The 25th Annual Putnam County Spelling Bee," a musical by William Finn and book by Rachel Sheinkin, at 7 p.m. Nov. 19-22. The musical focuses on the quirks and emotions of a group of spelling-bee participants.
"This 'Spelling Bee' is new, and I think what we're trying to do is try to get the community re-energized about theater. We are also doing old classics to keep that base of the people that we have already still interested," said Tim Welsh, a senior performer.
Mullane said that it is important for the group to choose shows that other high schools in the area have not performed because it provides an incentive to watch. Crowds have been hit or miss, Mullane said, adding that the 800 people who showed up to see "Footloose" ended up being one of the biggest crowds.
But choosing shows that have been written for the biggest stages is a challenge for the high school performers. Mullane said that professionals would practice around the clock for two weeks before a performance, but that the drama guild takes several months because of school work.
"We try to do them at a really high quality level," Mullane said. "We try to always exceed a typical high-school production."
For some of the students who perform in the shows, the biggest challenge is overcoming the stigma attached to musical theater to market the performance to fellow students.
"Asking a high school kid to sacrifice a couple hours on his Friday or Saturday night is a hard sell," Welsh said.
But Welsh added that the group has marketing ideas to promote the November show.
Katelyn DeLadurantey, a junior at Boardman, said she enjoys the rush of being on stage but the most gratifying aspect of the performance is the audience's reaction.
Mullane said he finds working with a group of zealous students refreshing.
"Every four years there's a new group that's just as excited as the last one, and you don't find that as much in the professional world."