Valley cemeteries tell a story
Oak Hill Cemetery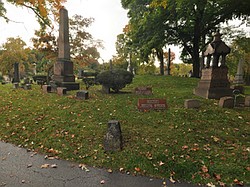 Video
A view of Oak Hill Cemetery in Youngstown. Sunday, Oct. 11, 2009.
IN FOCUS: Cemeteries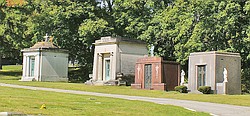 Gallery
Beautiful landscaping throughout local cemeteries surrounds some of the Valley's founding fathers and resting places of area residents.
By NATHALIE TAGHABONI
VINDICATOR CORRESPONDENT
The Mahoning Valley has a great many cemeteries. Some are just a few yards of broken stones; some are acres of manicured grounds. Each marker has a story to tell. In many cases, the story has blurred and faded through decades — even centuries. Some stories are fresh and the memories just hours old, with the flowers newly laid on the grave of the beloved.
In Focus takes a stroll among the departed who lay at rest in Calvary Cemetery on Mahoning Avenue, Oak Hill Cemetery on Oak Hill Avenue and Boardman Cemetery on Tanglewood Drive.
Though some might find this stroll far too solemn, it is in these places that you get a true sense of the history of Youngstown and the Valley.
Boardman Cemetery is one of the area's oldest. The half-acre sitting just north of U.S. Route 224 on Tanglewood Drive was gifted to the town by Elijah Boardman in 1805.
Though it lies in the heart of Boardman, the tiny cemetery has a solitary air. The markers here are modest and sparse for the most part and tell of those born as far back as the 18th century.
Calvary Cemetery in Youngstown covers 133 acres of immaculately maintained burial grounds — the largest in the city.
It was laid out as a cemetery in 1885 with some of its oldest plots situated at the northwest section of the cemetery.
An avenue in the center of the cemetery is lined with exquisite mausoleums of some well-known local families.
Oak Hill Cemetery, on the city's South Side, is neither the largest nor oldest, but it's perhaps the most intriguing of the three resting places. Records of burials date back to 1878.
Some of those resting here were originally at a cemetery at Wood Street and Wick Avenue, but that cemetery was closed and its remains moved to Oak Hill.
The mausoleums and headstones here bear the names of some of the oldest and most-influential families in the Valley.
The carvings and statues are magnificent, the few mausoleums crafted with perfection.