Valley Muslims open doors to public to share culture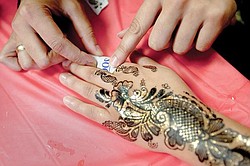 Photo
HANDIWORK: A member of the Islamic Society of Youngstown carefully applies a temporary henna tattoo to a patron's hand. The Islamic Soctiety had an open house Sunday afternoon at its Homewood Avenue mosque.

Photo
HANDY CANDY: Manal Hamdan, of Boardman, gives a stick of cotton candy to a hungry onlooker. Hamdan and others celebrated their heritage during and open house for the Islamic Society of Youngstown on Sunday afternoon.
Most all Muslims lead peaceful, law-abiding lives, a leader at Sunday's Islamic event said.
By Sean Barron
In the eight years since the Sept. 11, 2001, terrorist attacks, much fear and anger toward Muslims have abated, and efforts are under way to repair relations between the United States and millions of Muslims worldwide.
Many Muslim-Americans continue to feel, however, that they're being subjected to unfair scrutiny at home, especially by law enforcement, and some still report being victims of discrimination and violence.
Understanding the Islamic religion and its practitioners and appreciating what Muslim Americans do and don't stand for require increased education and awareness, Valley Muslims say.
Promoting such awareness was the main idea behind Sunday's third annual open house, hosted by the Islamic Society of Greater Youngstown at its mosque, 1670 Homewood Ave., on the city's South Side. The free four-hour program coincided with Islamic Day in Ohio, which was Saturday. The event's offerings included jewelry, food, handmade crafts and activities for children.
It's imperative to realize that Islam, like every other religion, has its fanatics, but that they are not representative of Muslims, most of whom believe in the sanctity of life, noted Saeeda Ghani, the Islamic society's president.
"The religion itself does not teach what fanatics are doing," Ghani explained. "Islam is a religion of peace."
Ghani said she agrees with the conclusions of a recent poll that found most citizens believe American Muslims face greater discrimination than other religious groups, but cautioned that the numbers depend largely on location.
Post Sept. 11 saw many Muslims in large cities being victims of discrimination, but such problems were virtually nonexistent here, she noted. In fact, Ghani continued, many area residents showed support for the Muslim community.
"After 9/11, we got cards and flowers saying 'we're behind you,' " Ghani recalled.
Nevertheless, certain myths about the religion persist and should be debunked, she continued. They include the idea that women who choose to be covered are submissive, and that Islam fails to respect women. Another says that strictly adhering to Islamic principles is always confining, Ghani said.
Most Muslim women travel, shop, go to movies and live like nearly everyone else, she noted, adding that it's also untrue that following a regimen of praying five times a day, for example, means that Muslims can't enjoy other facets of life.
To the contrary, most Youngstown society members perform community-service projects and make donations to help those less fortunate; the mosque also works with the Second Harvest Food Bank of Mahoning Valley to assist those in need, she pointed out.
A few hundred people came to the open house that featured tours of the facility, as well as food such as grape leaves, spinach pies, humus, falafel sandwiches and various types of bread. Other specialties were Palestinian dishes that included biryani (rice and chicken) and salmosa, a deep-fried potato-filled pastry. Also in the mix was tabooli, a dish made with minced tomatoes, wheat germ, parsley, lemon and vinegar.
Several youngsters enjoyed having Yusra Alhadi use henna to add a variety of intricate and simple designs to their hands and arms. Henna is a powdery substance that is derived from certain tree seeds.
After application, the material dries within 10 to 15 minutes and turns a yellowish-red color, explained Alhadi, of Masury, a member of the mosque. The process is used for Muslim traditions and special occasions — especially weddings, she said.
Many people found themselves browsing or buying shoes, handmade shawls, embroidered pillows and other items sold by Azka Malik and her daughters Amina, 14, and Aaiza, 16.
All of the merchandise came from Pakistan, and proceeds were to benefit the mosque, said Azka Malik, a member of the facility's executive committee.
The open house followed Islamic Day in Ohio, which was designated in 1987 as the second Saturday in October by former Gov. Richard Celeste.
Every year on that day, Islamic groups send delegates to a statewide conference that takes place in a different city, noted Ikram Khawaja, provost of Youngstown State University provost.
Saturday's conference, sponsored by the Islamic Council of Ohio, was in Dayton and focused on ways Muslims can serve the state, such as by helping at free clinics, food banks and shelters, said Dr. Khalid Iqbal, a Liberty pediatrician and president of the ICO.
"All over the U.S., the population of Muslims is increasing tremendously," said Iqbal, adding that a main goal of the ICO and the Islamic day are to improve understanding and to enhance the image of Islam by the population at large.
More like this from vindy.com