Keep fighting, Valley NAACP members urged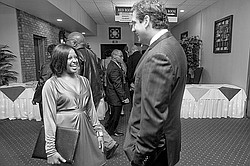 Photo
Meredith Lilly speaks with congressman Tim Ryan at the Mahoning County Country Club prior to the 90th NAACP Banquet on Friday evening.
Obama deserved the Nobel Peace Prize, the attorney said.
GIRARD — The NAACP has reached a major milestone as it observes its centennial this year, but its work is far from over, a key organizer for Barack Obama's 2008 campaign for the presidency said here Friday.
"My challenge to the NAACP tonight: Let's keep fighting, fighting like the NAACP did 100 years ago," said Atty. Meredith Lilly of Birmingham, Ala., who served as a field representative for the 2008 Obama for America Campaign. "This journey has been long, but we still have so much work to do," she added.
In the presidential campaign, Lilly sought endorsements for Obama from local community leaders and spoke to audiences as a representative of the campaign.
Lilly spoke to about 300 people at the 90th annual Freedom Fund Banquet at the Mahoning Country Club of the National Association for the Advancement of Colored People's Youngstown Branch.
Those attending included Bishop George V. Murry of the Diocese of Youngstown, U.S. Rep. Tim Ryan of Niles, D-17th, state legislators and numerous other political and community leaders.
During her speech, Lilly invoked the names of many fighters for civil rights. Among them were the assassinated civil rights leaders, Medgar Evers and Dr. Martin Luther King Jr.; Rosa Parks, whose refusal to give up her seat on a bus was a watershed event of the civil rights movement; the Rev. Oliver Brown, who sparked the landmark Brown v. Board of Education U.S. Supreme Court decision that outlawed school segregation; U.S. Supreme Court Justice Thurgood Marshall, who was the NAACP's former chief counsel; and President Obama.
"Even now, he still keeps fighting for equal health care. People try to humiliate him and call him a liar, but he still keeps fighting," she observed.
President Obama is deserving of the Nobel Peace Prize conferred on him Friday because he is admired in many nations throughout the world and has "brought a lot of people together," she said in an interview. "Our world has started to come together," since Obama campaigned for president and took office, she said, based on her travels to other countries.
"We need the same commitment as the Rev. Lonnie Simon, who got involved in the civil rights movement" and got his church involved "so that one day Youngstown could have black politicians and even a black mayor," Lilly said, referring to Mayor Jay Williams. The Rev. Mr. Simon is pastor emeritus of New Bethel Baptist Church in Youngstown.
"We may not have to fight off dogs and be sprayed with hose pipes, but we do have to fight our high school drop out rate. We may not have to fight to sit in the front of the bus, but we have to fight against teenage pregnancies," Lilly said.
"We may not have to fight for school integration, but we have to fight against low self-esteem and inadequacy in the mind of our black youth. We may not have to fight for the ending of lynchings, but we have to fight against violence in our communities. We may not have to fight for a right to purchase property, but we still have to fight for equal health care for all," Lilly said.
"Although we are still in the ring and we may be tired, let's keep the gloves on, pull our heads up and go find some younger fighters to help us, and let's fight like never before," she concluded.
---
NAACP TIME LINE
Major milestones
1909 - On Feb. 12, the organization was founded by a multiracial group of activists. They were initially called the National Negro Committee.
1917 - Wins its first major Supreme Court case, Buchanan v. Warley and lobbies for black military officers for World War I.
1939 - Supported Marian Anderson's performance at the Lincoln Memorial after the Daughters of the American Revolution barred her from Constitution Hall.
1954 - Won Brown v. Board of Education U.S. Supreme Court decision that outlawed racially segregated public schools.
1955 - NAACP secretary Rosa Parks is arrested for refusing to give up her seat to a white man on a Montgomery, Ala., bus, sparking the Montgomery bus boycott.
1963 - Mississippi NAACP leader Medgar Evers is assassinated outside his home.
1964, 1965 and 1968 - Congress passes and President Lyndon Johnson signs the Civil Rights, Voting Rights and Fair Housing acts, respectively.
1978 - In a setback, the Supreme Court outlaws racial quotas in higher education.
1982 - With the NAACP's backing, President Ronald Reagan signs the Voting Rights Act extension and starts the Fair Share economic development program, which urges companies to do business with black firms.
1987 - NAACP leads the successful fight to deny Judge Robert Bork a Supreme Court seat.
1992 - Fair Share nets billions of dollars for black businesses.
2008 - Benjamin Jealous is elected president and chief executive officer of the NAACP. At 35, he is the youngest person to hold that position.
Source: NAACP