FirstEnergy postpones CFL distribution
Light Bulb Controversy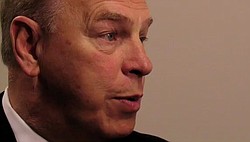 Video
Ohio Gov. Ted Strickland talks with reporters about the First Energy Light Bulb controversy during a news conference at an ATT call center in Boardman OH Thursday Oct. 8, 2009.
Mahoning County commissioners adopted a resolution of opposition.
By Marc Kovac
COLUMBUS — FirstEnergy is postponing distribution of millions of energy-efficient light bulbs, company officials told the Public Utilities Commission of Ohio late Thursday.
PUCO spokeswoman Shana Eiselstein said the company has assured PUCO Chairwoman Alan Schriber that it would hold off on launching the program for now. It had planned to begin delivering bulbs Monday to comply with a state law mandating reductions in energy usage.
"They are not going to begin distribution of the light bulbs ... and they will begin discussions with PUCO about the program next week," Eiselstein said.
The decision came after a public outcry from customers over FirstEnergy's plans to deliver and charge customers for the light bulbs and calls from Schriber and Gov. Ted Strickland to postpone the program.
Gov. Ted Strickland said Thursday he wants questions answered before FirstEnergy proceeds with its distribution to its customers. Schriber said PUCO had not signed off on FirstEnergy's plans to charge an average of 60 cents per month for three years, starting in January, to cover the costs of the light bulbs.
The commission has OK'd the company's plan and agreed that the costs involved are recoupable, but it is waiting for an application from FirstEnergy on the monthly rate increase, Schriber said.
"We did not have before us an application to recover those costs," he said. "We had basically an application to launch a program that came to us with the blessing of a lot of stakeholders. ... They have to file with us a dollar amount and say here's what we're charging."
The governor, who was in Boardman to mark the addition of jobs at a call center there, said the benefits of the program for the consumer need to be better explained. Strickland said he also wants a better understanding of how consumers are being charged for the lights.
"We want to make sure consumers are treated fairly," Strickland said.
On Wednesday, Strickland wrote a letter to the PUCO asking the agency to suspend the program because of a rash of consumer complaints.
FirstEnergy received approval from PUCO last month to move forward with the plan, providing 3.75 million compact fluorescent light bulbs to residential customers. The company says the bulbs will save customers about $60 over a five- to seven-year period.
The plan was developed to meet state-mandated energy efficiencies, with utilities required to reduce energy usage by 22.2 percent by the end of 2025.
FirstEnergy announced the program earlier this week, prompting an outcry from customers about the costs of the bulbs and the methodology in their distribution. PUCO and Strickland's office received high volumes of phone calls and e-mails from customers angry about the plan.
That prompted both Strickland and Schriber to issue statements calling for FirstEnergy to hold off on delivering the light bulbs.
FirstEnergy submitted its initial application for the program to PUCO in July, and worked with multiple state groups — including the Ohio Consumers' Counsel and Ohio Partners for Affordable Energy — to develop its final plan.
PUCO signed off on the bulb distribution for 2009 only. According to documents, the commission ruled that the "proposed energy efficiency and peak demand reduction programs... are reasonable and should be approved. Further, the commission finds that FirstEnergy's request for recovery of the costs associated with the implementation of these programs does not appear to be unjust or unreasonable and should be approved. Therefore, the commission finds that it is unnecessary to hold a hearing in this matter."
"We certainly were not expecting the reaction that we've heard from customers," said company spokeswoman Ellen Raines. "We thought that we have proposed a program, and it had been approved by the Public Utilities Commission, that was going to help customers save on their monthly electric bills and also help meet the state's mandated [energy efficiency goals]."
She added, "We have an order that was approved by the Public Utilities Commission, and it does outline that program costs would be recovered from customers."
But Schriber said the commission still must sign off on the exact dollar amounts to be added to customers' monthly bills before FirstEnergy can start charging those costs. He added that PUCO would have distributed a press release on the program, if a specific dollar amount had been approved by the commission.
"Anytime you increase a rate, no matter if it's a penny or a billion, it has to be approved by the commission," he said, adding later, "Approving a program in and of itself is no big deal. [It] was FirstEnergy's obligation to tell the public what they were doing. We would put out a press release if there was some dollar issue that you needed to know about. At that point, there was none, and there still isn't."
Asked whether FirstEnergy would move ahead with the planned increases to customers, Raines replied, "Right now, we're going to meet with the commission and take it from there. ... It's a very ambitious program. The Legislature recognizes that there's a cost to energy efficiency. It's not free, and that the costs would be recovered from customers."
During Thursday's Mahoning County commissioners meeting at the American Legion Post in Poland, Commissioners Anthony T. Traficanti and John A. McNally IV adopted a resolution opposing FirstEnergy's controversial plan.
Commissioner David N. Ludt was absent.
"Mahoning County commissioners call on FirstEnergy Corp. to turn out the lights on its [fluorescent light bulb] home delivery plan," the resolution says.
Traficanti blasted the utility for failing to hold public hearings on the matter, saying he wants to see PUCO more tightly regulate energy companies in Ohio.
"It's an insult for FirstEnergy to push the [plan] down the throats of Mahoning County residents. I find it disgusting for the public to pay for these bulbs," especially since many are made in China at a time when many local residents are struggling, McNally said.
McNally also praised area media for keeping the story in the spotlight and urged residents to continue contacting their elected officials to oppose the measure.
Contributing to this story were Business Editor Don Shilling and correspondent Sean Barron.
SEE ALSO: Other Ohio utilities use coupons to promote bulbs.