City to fund demolition of Linton mortuary site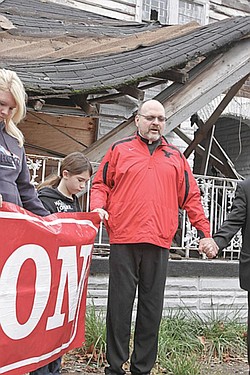 Photo
CLOSING PRAYER: Pastor Edward P. Noga, a member of ACTION, gives the closing prayer at an event in front of the former Linton Funeral Home on Youngstown's North Side. The city will demolish the structure shortly. Holding hands with the priest are, from left, Caitlyn Cominsky, 15, and her sister, Haylee, 11, both of Youngstown.
The former funeral home could be razed as soon as three weeks.
YOUNGSTOWN — The prayers of members of Sts. Peter & Paul Church and an area faith-based community organization apparently have been answered.
The city will pay to have a long-abandoned and dilapidated funeral home on the North Side demolished.
If the former Linton Funeral Home on Arlington Street has no asbestos, it will be down in three weeks, said Councilwoman Annie Gillam, D-1st, whose ward includes that neighborhood.
If tests of the 94-year-old building show it has asbestos, the demolition would take place in about six weeks, she said Thursday.
Upon hearing Gillam's announcement, the approximately 75 people attending a meeting Thursday in the church's social hall applauded.
The event was organized by the Alliance for Congregational Transformation Influencing Our Neighborhood, or ACTION, a faith-based group that focuses on social justice issues.
"It's good news it will come down," said Steve Sotlar, a longtime member of Sts. Peter & Paul Church, located next to the former funeral-home property. "It has to come down. It should have been down long ago."
Joe Bistrich, another longtime member of the church, agreed that the former funeral-home structure should have come down years ago.
"I'm so glad to hear they're going to finally get rid of it," he said.
Pastor Joseph Rudjak of Sts. Peter & Paul called the building a "terrible eyesore."
The funeral-home building is the site of illegal activities such as prostitution and drug use, he said.
"We want to see the neighborhood transformed into a place where people can live and visit," he added. "Things are going downhill unless we turn it around."
Pastor Edward P. Noga of St. Patrick Church, also an ACTION member, said he was grateful to the city for promising to demolish the former Linton building.
"We will count the days in joy as we prepare to watch this building come down," he said.
Mayor Jay Williams didn't attend Thursday's meeting at Sts. Peter & Paul.
But in a telephone interview with The Vindicator, he said: "We appreciate the passion and concerns of the parishioners. Churches are the cornerstones of our community. Taking up this cause [on their behalf] is the least we can do."
The property is owned by Jehojena Inc., based in Belize City, Belize, a Central American country.
Jehojena bought the property for $3,000 on June 9, 2008, from Schouten Manita of Slyvan Lake, Alberta, Canada. Schouten Manita bought the property for $3,000 on Sept. 24, 2007, from AVR Holdings Inc., an Elmhurt, Ill., company. AVR purchased it for $59,381 on June 22, 2007, from American Tax Funding, which foreclosed on the property through a tax lien.
skolnick@vindy.com