Hubbard prevails over Salem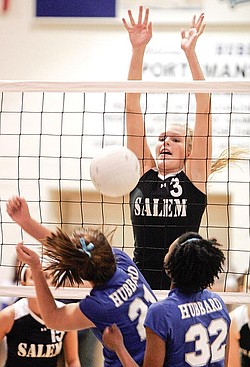 Photo
Salem's Olivia Mitchley blocks a shot by Hubbard's Jillian hinkle#21 at right is Hubard's Jackie Carlisle. wdlewis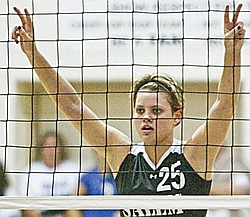 Photo
Salem's Amy scullion during 10/7 game at Hubbard. wd lewis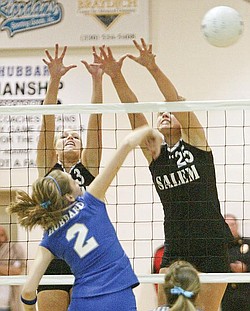 Photo
Hubbard's Lexi Starheim slips a shot past Salems Olivia Mitchley, left, and Amy Scullion.
The Eagles got off to a fast start and defeated their AAC rivals in front of a huge crowd.
By ERIC HAMILTON
Vindicator correspondent
HUBBARD — Over three decades ago Don Conser and Chuck Montgomery were playing on the same softball team. They've spent much of their adult lives coaching volleyball. Yet neither man has experienced anything like Wednesday night very often.
In front of an estimated crowd of 1,500 fans at the Hubbard gymnasium, Montgomery's Eagles defeated Conser's Salem team in four sets.
"These are two great volleyball programs, who are coached well, have great kids and great communities who support their teams," said Montgomery. "This atmosphere tonight was unbelievable for a volleyball match. This was the best regular season match I've ever seen."
Salem (15-2) entered the match ranked No. 2 in the state in Division II, while Hubbard (16-0) carried a No. 6 ranking.
As the PA announcer said when introducing the teams, "This is the most anticipated Division II match in the state of Ohio."
Led by Youngstown State signee Jackie Carlisle, the Eagles won the first two sets against Salem and its star Amy Scullion, who is headed to Ohio State next year on a basketball scholarship.
Game 1 featured seven ties, as neither team led by more than four points. After Salem knotted the score at 20-all, Hubbard built several two-point advantages before winning 25-22.
In Game 2, Hubbard controlled things most of the way, leading by as many as nine points at 23-14 before winning 25-17.
Salem played a little bit more relaxed in Game 3, but never led by more than three points. The Quakers built a 23-21 cushion before Hubbard took a 23-22 lead.
The visitors scored the next three points to avoid the three set sweep, as Scullion scored the winner with a dink, giving Salem a 25-23 win.
The Quakers never led in the deciding fourth set, as the Eagles finished the upset, with Carlile's spike securing a 25-16 victory.
"We've never had a crowd this big," said Carlile. "We thought maybe it would be big because presale tickets were selling well. This was my only time ever playing Salem here in our gym, so it was nice to beat them.
"It was huge that we won those first two games to give ourselves a cushion. Then we could just play like we know how and not worry about the next bad pass or the next bad hit. When we play together, we can really do a lot."
Chances are the teams will meet again in just a few weeks — this time with even more at stake.
Both Salem and Hubbard will compete in the Division II district tournament at Boardman. It is expected they will battle in the district finals — like they did in 2006, when the Quakers prevailed.
"I'm anxious to face them in the tournament," said Conser, whose team was without starting middle hitter Lydia Shivers on Wednesday due to illness. "I think once we get our whole lineup in there and won't have to juggle things around, it will be a different story.
"I think the girls we had in there playing different positions did well, but we still lost. Amy [Scullion] was hitting a lot from the middle, which is not her position. We'll see if that makes a difference when we face them in the tournament."
Both Conser and Montgomery have coached volleyball in the Mahoning Valley for over 30 years. Both have experienced so much success that they are considered Hall of Fame material and their programs are more than competitive — they are powerhouses around the state.
They have combined to win over 1,000 matches during their tenures and own over 65 years of coaching experience. Not too bad for a softball pitcher and shortstop.
"I've known Don for a long time," said Montgomery. "I'm from Salem and … I consider him a friend and he is a great coach and a great guy, who is respected all around the state.