CEO: 40-mpg Cruze key to GM's rebound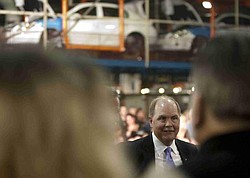 Photo
The Vindicator/Geoffrey Hauschild President and CEO of GM, Fritz Henderson, mingles with the crowd while waiting for President Obama to address an audience at the Lordstown Auto Plant on Tuesday morning. 9.15.2009
GM Lordstown prepares for the Cruze.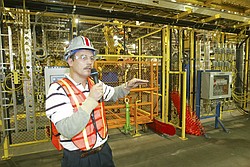 Gallery
GM Lordstown shows off preparations for the Cruze during a June 24, 2009 media tour.
The Cruze will have more upscale styling and features, a GM official says.
STAFF/WIRE REPORT
The Chevrolet Cruze will be critical to General Motors' attempt to rebuild its market share, said Fritz Henderson, company chief executive.
In a conference call with media and analysts Wednesday, Henderson was asked how GM plans to increase market share as it eliminates the Pontiac and Saturn brands. Henderson said the company primarily will rely on Chevrolet models to make up for the lost sales.
"With the Cruze replacing the [Chevrolet] Cobalt, we have a number of great opportunities to boost share," Henderson said.
The Cruze is to be launched from GM's Lordstown complex in April, replacing the Cobalt.
Brent Dewar, Chevrolet vice president, said in a Web chat with the public Wednesday that the Cruze will feature more upscale styling and features.
"We expect big things from it," Dewar said. GM also has said the Cruze will get up to about 40 mpg.
In addition to Chevrolet, GM emerged from a brief bankruptcy in July with the Buick, Cadillac and GMC brands.
The automakers' global market share stood at 11.9 percent in the third quarter, down from 12.4 percent in 2008, largely because of falling sales in the U.S. and Canada, Henderson said.
In the U.S., GM's control of the market fell to 19.5 percent in the third quarter from 22.1 percent in 2008. Other regions are performing better than expected.
As it fights to prop up its falling market share, GM announced that Mark LaNeve is leaving as its U.S. sales chief. LaNeve, 50, is taking a job at a firm outside the auto industry effective Oct. 15, said John McDonald, a company spokesman.
Although LaNeve's replacement has yet to be determined, his departure gives the company an opportunity to bring in fresh talent and a different view on sales, Henderson said. But that doesn't mean a successor automatically will be brought in from outside.
"We would benefit from fresh perspectives," he said.
GM's September U.S. sales plunged 45 percent, a big letdown that followed the government's Cash for Clunkers program in July and August. So far this year, its sales are down 36 percent.
LaNeve has told dealers that his departure was not a reflection of the company's product or marketing plans, McDonald said. He added that the consolidation and closing of dealerships had taken a toll on him. GM had 6,375 U.S. dealers at the end of 2008 and expects to have 5,600 by the end of this year.
LaNeve had been in charge of sales and marketing until July 10, the day GM emerged from bankruptcy protection, when Henderson took marketing away and put it in the hands of veteran executive Bob Lutz.
GM will fall short of its employment reduction targets by the end of this year, Henderson said, but he's confident it will end the year with a competitive cost structure.
GM wanted to have 40,000 U.S. hourly workers but instead will have 49,000 by the end of the year. Henderson said early retirement and buyout offers worked but fell short of expectations.
GM had planned to employ 23,000 salaried workers by the end of 2009 but instead will have somewhere between 23,000 and 24,000, he said. That's because it has added some employees in technology and financial areas and decided to keep its AC Delco parts operation rather than sell it, resulting in more workers being retained, Henderson said.
He said on the conference call the company is paying far more attention to products and customer issues than it did six months ago, when it was consumed with restructuring.
After the conference call, Henderson told the CNBC cable network that the company is not breaking even right now but is moving in that direction. He also said it would be ready to make a public stock offering by the second half of next year.