Warren man gets life sentence for role in double homicide
Eugene Cumberatch video


Video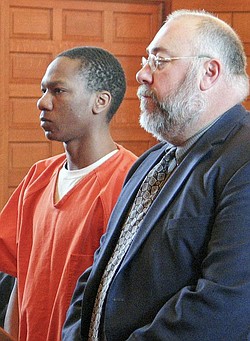 Photo
LIFE IN PRISON: Eugene Cumberbatch appeared in Trumbull County Common Pleas Court with his attorney, Joseph Fritz, to be sentenced for his role in the April 13 deaths of Lloyd McCoy Jr., 11, and Marvin Chaney, 26. Cumberbatch was sentenced to life in prison with parole eligibility after 38 years.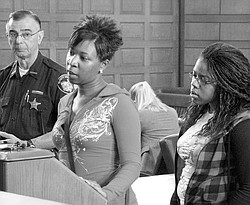 Photo
LIFE IN PRISON: Brittnay McCoy, left, and her sister, Chelise McCoy, took turns speaking about Eugene Cumberbatch, who was sentenced to life in prison for his role in the April 13 deaths of their brother Lloyd McCoy Jr., 11, and Marvin Chaney, 26. Deputy Nick Veri is pictured at far left.
The defendant will be eligible for his first parole hearing in 38 years.
By Ed Runyan
WARREN — Lloyd McCoy Sr. said Eugene Cumberbatch "had the power" to stop the April 13 attack on his daughter's house on Wick Street Southeast that killed his son, Lloyd McCoy Jr., 11, and his daughter's boyfriend, Marvin Chaney, 26.
"You were too close. You had the power to stop the whole thing," he told Cumberbatch at his sentencing Tuesday in Trumbull County Common Pleas Court. "You have the power to hold yourselves back from doing ignorant things. You have the power to make things not happen."
McCoy recalled some of the times spent with his only son and "best friend," fishing or playing sports, and said he tried to make sure his son understood that good choices are not always easy ones, such as taking a low-paying job so that a person can be productive and stay out of trouble.
His son died from a bullet that passed through his chest. Now, McCoy wakes up "every morning in pain ... I have to wake up in the middle of the night hearing my wife cry."
"I'm not a vindictive person, but it has to be paid. My baby's life has to be paid for," he said.
A short time later, Judge Andrew Logan sentenced Cumberbatch to life in prison with parole eligibility after 38 years.
A jury found Cumberbatch, 27, of Front Street Southwest, guilty of two counts of complicity to aggravated murder, two counts of complicity to murder and several other charges.
But Cumberbatch, who didn't take the witness stand during the trial and sat nearly emotionless throughout the trial, did speak on Monday.
"I'm not a murderer, not a killer, especially not a child killer," Cumberbatch said of a news headline after he was convicted.
"I didn't kill little Lloyd or Marvin," he said, adding that he knows "condolences can't bring little Lloyd back."
Chris Becker, an assistant county prosecutor, said during the trial he also doesn't think Cumberbatch killed either victim, but he aided another man in carrying out the crimes.
The penalty for being the primary killer and for aiding the primary killer is the same, officials have said.
Cumberbatch added, "Despite so-called witnesses on the stand, I had nothing to do with the slayings. But for hanging out with people who probably made bad decisions, I'm guilty as charged."
Marcus Yager, 22, of Vine Avenue Northeast, testified that Cumberbatch fired a handgun once from the street at a house containing Chaney, Lloyd McCoy Jr., two of his sisters, a niece and nephew. The nephew was also hit by a bullet but recovered.
Yager said he was in the back seat of a car during the attack and didn't fire a weapon. He said another defendant, Eugene Henderson, 25, of Pearl Street, fired about 25 other shots from an AK-47 assault rifle.
Henderson goes on trial for his role in the crimes Nov. 2.
Cumberbatch blamed Brittnay McCoy, who is Lloyd Jr.'s sister and Chaney's girlfriend, for associating with Chaney, whom he said had "committed robberies in the past."
Brittnay McCoy testified she had been warned by a relative that someone might be coming for Chaney for allegedly stealing money and drugs from Henderson.
Cumberbatch also blamed Chaney's family for not helping him "change his ways so he could better his life" and not be a "walking target."
Becker said he was outraged by Cumberbatch's trying to blame Brittnay McCoy and Marvin Chaney for the murderous actions of Cumberbatch and his associates.
"To submit that Brittnay and Mr. Chaney should somehow be held accountable for this when they are in their own house is outrageous," he said.
Becker asked Judge Logan to give Cumberbatch life in prison without any chance of parole.
runyan@vindy.com
More like this from vindy.com