Store owner tells of 'crazy' shooting scene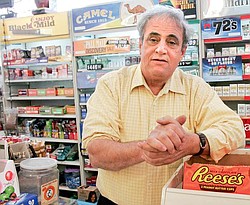 Photo
STORE OWNER: Jihad Mahd, owner of Big Apple Convenient Mart on Youngstown Road, Warren, said there may have been more than 100 people in the area of his store when the shooting occurred early Saturday.
The victim of the violence early Saturday in Warren had a criminal record.
By Ed Runyan
WARREN — Jihad Mahd, owner of Big Apple Convenient Mart, says it's unfortunate his store is being named in connection with the early Saturday shooting that killed Derek A. Thrash, 20, when the shooting had nothing to do with his business.
Mahd, whose store closed at 1 a.m. that day, said he drove past the store around 2:30 a.m. and saw about 70 cars in the parking lot of his store and the one next door, the Pit Stop Food Mart.
"I saw it. Oh my God, it was crazy," he said of the traffic.
Mahd said he doesn't stay open past 1 a.m. because, "Money is not everything. I'm here all day and half the night as it is."
Big Apple and Pit Stop are on Youngstown Road on either side of Kenilworth Avenue, about a half-mile east of downtown.
Mahd and the manager of Pit Stop agree that there may have been more than 100 people in the area of Pit Stop and Big Apple at 2:40 a.m. when the shooting occurred, but no witnesses stepped forward early Saturday.
Both men and Warren Police Detective Sgt. Jeff Cole say the area gets very busy about the time the bars close at 2:30 a.m.
Mayor Michael O'Brien, who visited Pit Stop and Big Apple on Sunday and Monday afternoon, said police are making progress in the investigation.
O'Brien said he got involved because of a remark that Mohammad Arar, son of Jihad Mahd, made about slow response times of Warren police officers.
Thrash, of Southern Boulevard Northwest, had an extensive criminal and traffic record in Warren Municipal Court for the two years since he became an adult.
In Trumbull County Common Pleas Court, he was sentenced to six months in Trumbull County Jail in July 2008 for carrying a concealed weapon and improperly handling firearms in a motor vehicle.
Thrash was sentenced in Warren Municipal Court in October 2007 to 10 days in Trumbull County Jail for obstructing official business.
He was convicted of carrying a concealed weapon in August 2007, not having a valid driver's license in August and September 2007 and disorderly conduct in September 2009.
A Warren police report said Sgt. Martin Gargas was working private security at the Pit Stop at 2:40 a.m. and reported to police that shots had been fired somewhere near the Pit Stop. A manager at the Pit Stop who would not give his name said he pays for Gargas to work at his store on weekends.
Patrolman Brian Martinek was on duty near Forum Health Trumbull Memorial Hospital about 3 a.m. when a security guard waved him down and told him that someone had been brought to the hospital with a gunshot wound.
After discovering that Thrash was critically injured, Martinek began interviewing some of the many people at the hospital, but none of them reported seeing the shooting.
One woman said she was in the back seat of a car parked in the Big Apple lot and heard three gunshots. Thrash ran up to the car and asked to be taken to the hospital, which the driver of her car did, the woman said. Thrash passed out shortly after getting into the car, she said. He was pronounced dead later at the hospital.
An officer later found two shell casings in the parking lot in front of the Big Apple. Five shell casings of the same caliber were found altogether at Big Apple, a police report said.
Cole said police still need help from anyone who saw anything by calling (330) 841-2684.
Mahd said he knows that he could do a lot of business at 2:30 a.m., when the bars let out, but he chooses not to.
"It's not worth it. I'm a human. I want to go home," he said.
Mahd said people do hang out in his parking lot and throughout the neighborhood late at night, and he sometimes finds evidence in the morning that some kind of trouble took place. But Mahd said he disagrees with his son, who told a news reporter Saturday that calls to police frequently do no good.
Mohammad Arar said it sometimes takes officers hours to arrive when the store calls for help in removing troublemakers. He said officers sometimes don't come at all.
Conversely, said Mahd: "We have good police. They come right away."
Police Chief Tim Bowers said it's not true that officers fail to respond to a call for service. "We always respond. When he says sometimes we never respond, that's not accurate."
O'Brien said Arar has told him that he was misunderstood.
Records indicate that 911 calls from Big Apple, 1650 Youngstown Road Southeast, have come to the Warren Police Department 16 times since Jan. 1.
Response times have been immediate in several cases in which a problem was reported directly to an officer, to as much as 47 minutes for a call at 10:03 p.m. Sept. 19 in which cars in the parking lot were playing loud music.
On Sept. 16, officers arrived at 1:21 p.m. for a 1:10 p.m. call for a robbery of a Big Apple patron.
On July 29, officers arrived at 3:17 p.m. for a 2:56 p.m. call for a person trying to sell drugs from a car in the parking lot.
On May 24, officers arrived at 10:39 p.m. for a 10:09 p.m. call of a man "waving something around [possibly a gun]" at the store.
On May 19, officers arrived at 7:30 p.m. for a 7:26 p.m. call for a man and woman fighting and screaming.
O'Brien said he told Mahd that he is still responsible for what happens in his parking lot even after his store closes for the night.
If a store owner is aware that illegal activities are occurring on his property, "you have to take some action," he said, noting that Big Apple doesn't have a surveillance system on its parking lot.
runyan@vindy.com