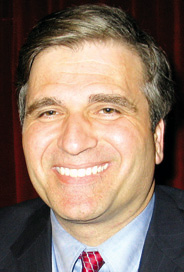 Photo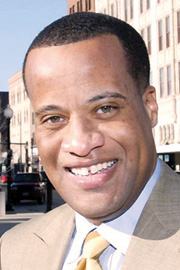 Photo
Youngstown Mayor Jay Williams
The Girard mayor said his city 'won't be rushed' into an unsatisfactory deal.
YOUNGSTOWN — Girard Mayor James Melfi said "there's no progress" — and no deal in sight — between his city and Youngstown over the transfer of 191 acres needed by V&M Star Steel for its potential $970 million project.
"Until we get the language that is satisfactory to us, we won't sign a deal," he said. "We won't get rushed. They aren't going to push us into a corner."
A major obstacle to getting a deal done between the cities, Melfi said, is a provision to equally share a 2.75 percent corporate-profit tax from a proposed new V&M facility.
The problem is figuring out the average annual profit tax paid to Youngstown by V&M for its Martin Luther King Jr. Boulevard facility in that city — to determine how much additional profit-tax revenue would be shared between the two cities if a new plant is built, Melfi said.
V&M officials are insistent that a potential expansion be on property in Youngstown. That requires 191 acres in Girard, largely the footprint for an expansion, to be transferred to Youngstown. Melfi says that concerns him because the city is giving up a lot of its property without a guarantee that Girard would receive its fair share of tax revenue from the potential expansion.
V&M's Youngstown plant had very profitable years, but with the declining economy, it hasn't done well this year and in 2008, according to Youngstown and Girard officials.
Youngstown doesn't want to include the recent down years in calculating the average annual profit tax, Melfi said.
That would reduce Girard's share of a potential new plant's profit tax by about $50,000 a year, Melfi said.
"They want to take my land and do this project, and I have to fight like hell to make it a fair and equitable agreement," he said. Youngstown Mayor Jay Williams said the goal from the beginning has been a "50-50 fair and equitable split. That remains the goal. No one's trying to rush or push anyone into a corner."
V&M Star officials have repeatedly declined to make public comments on the potential plant and the negotiations between the two cities. V&M is expected to decide by December or January whether it will move forward with the expansion project here. The company would employ about 400 new workers.
Youngstown and Girard city officials said V&M wanted this deal to be finished a while ago.
"We believe the company is being tolerant, and we're treating it as though the deadline has already passed," said Youngstown Finance Director David Bozanich. "We're working hard to get it done, and we'll accomplish it in the end. The deal is too valuable for the community to allow for relatively small issues to negatively impact it. We need to welcome these people, not offend them."
Melfi is less concerned.
"There's a bunch of deadlines, and we haven't made any of them" — and V&M is still interested, he said.
"We have a company interested in a nearly $1 billion project that's beneficial to the entire Mahoning Valley," Williams said. "If anyone does not think deadlines are important, they don't understand economic development."
Williams added that the two cities "can't take the casual approach that when it gets done, it gets done. The company has said to everyone involved to get this done. ... It's not in anyone's interest to think that it's OK to go six months without an agreement."
Meanwhile, the Youngstown Board of Control is having a special meeting today to approve borrowing up to $2,626,090 to pay for a portion of an improvement project to 110 acres needed by V&M for the potential expansion.
The Ohio Department of Transportation, overseeing this improvement project, will open proposals Thursday from companies for work on the 110 acres. That work includes expanding railroad lines, site excavation, site grading and construction of storm sewers.
The project is estimated to cost $8 million and is to be done no later than March 2010. The city is paying $2,626,090 if the proposal comes in at its estimate.
If the estimated cost is lower, the city's share would be less, and it wouldn't have to borrow as much money, said Charles T. Shasho, Youngstown's deputy director of public works.
The state would reimburse the money to the city, up to the amount Youngstown is borrowing, for other projects, such as the Hazel Street extension, improvements to the lower portion of Market Street and bridge replacements, Shasho said.
The state received $20 million in federal stimulus funds for the V&M project.
A recent re-evaluation of the project reduced that amount to about $17.4 million.
Expenses for retention ponds, waterlines and wastewater extensions aren't covered under this stimulus grant, Shasho said.
skolnick@vindy.com