Area pumpkin may be heaviest in world
Giant Pumpkin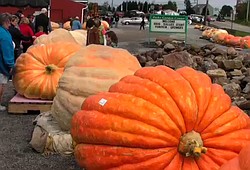 Video
A new world record pumpkin was weighed in October 3, 2009 1,725 pounds in Greenford, Oh. The grower was Christy Harp of Massilon, Oh.
By Bob Jackson
[Editor's note: An inadvertent error caused this story to run incompletely in some Sunday papers.]
At 5 feet 6 inches and 140 pounds, Christy Harp doesn't exactly look like a heavyweight contender.
But on Saturday, the petite gardener from Stark County chopped down all comers, including several perennial title-takers, and walked away as the undisputed heavyweight champion of the world.
Hers was the heaviest pumpkin weighed at the annual Ohio Valley Giant Pumpkin Growers weigh-off at Parks Garden Center on state Route 62 in Green Township. Harp's entry of 1,725 pounds was the heaviest ever weighed at the Parks event, which is in its 15th year, and it shattered the old world and Ohio records for heavyweight pumpkins.
The world record coming into the event was 1,689 pounds, and the state record was 1,524.5 pounds.
When it was all over, Harp and her husband, Nick, were hoisted onto the shoulders of some of the men she'd dethroned, and they all celebrated her victory.
"We've always felt that the big pumpkin for any one of us is a victory for all of us," said Tim Parks, owner of the garden center and a director of the OVGPG.
Harp, who lives in Massillon, came into the competition as the favorite to win, based on the circumference of her gigantic pumpkin. She watched nervously as nine of her closest competitors were placed on the scale ahead of hers.
The pumpkins were so huge that they had to be moved with a forklift and placed onto the scale with a heavy-duty hydraulic hoist. About 300 people had gathered inside a pole building to watch the competition, oohing and aahing as an overhead display showed the weights of each gigantic gourd. They clapped each time it was announced that a grower had accomplished a personal-best record.
Some came up considerably lighter than expected, causing disappointment for their growers, like Todd Skinner of Barnesville, Ohio. His pumpkin was estimated to weigh some 1,600 pounds and was predicted to be the second-heaviest in the contest, but weighed just 1,333 pounds.
"I guess mine shows that size doesn't matter," he joked.
Harp and Parks said that often a pumpkin's thickness has as much to do with its weight as its overall size.
"You just never know until you get it on that scale," said Harp, who said she has been growing and entering pumpkins for the contest for the past seven years.
Before Harp's winning entry, Dave Stelts of Edinburg, Pa., was sitting on top as the grower of the heaviest pumpkin of the day. His entry tipped the scale at 1,662.5 pounds. It was the first time a pumpkin weighing more than 1,600 pounds had been weighed at the local event, and the final number brought the crowd to its feet.
But when Harp's winning numbers were displayed, Stelts was one of the first to greet her with a handshake and a hug.
"I'll step aside for a world record any day of the week," Stelts said afterward. "This is just so great for the sport."
Harp said she came into the event optimistic but nervous, fearing that some of the men who have won the event year in and year out might come up with an entry that would best hers. Parks said growers are allowed to weigh their pumpkins before entering them in the contest, but Harp declined to say whether she'd done that.
She knew she had a contender, but said she didn't do any trash-talking to powerhouse growers such as Stelts, Parks and past winners Jerry Rose of Huntsburg, Ohio, or Quinn Werner of Saegerstown, Pa.
"They'd probably just beat me into the ground next year," she said, laughing. "But this is huge to just compete here because nobody beats the boys. Ever. I'm so excited and very emotional."
Her secret to growing such a large pumpkin?
"Pulling all the weeds and being out in the patch lots of hours," she said, noting that the boulder-sized pumpkin grew at about 33 pounds a day. Parks said the giant pumpkins are grown in about 60 to 90 days.
He said there are still several pumpkin weigh-offs to be held across North America, so it will be a couple of weeks before Harp will know whether her world record will stand. If it does, she will travel to Niagara Falls in March 2010 to receive an award.
For her efforts Saturday, she won the $2,500 cash prize for first place and bragging rights for the next year.
Stelts said Saturday's event also broke the old world record of 1,399.5 pounds average weight for the top 10 pumpkins in a contest. The Ohio Valley Giant Pumpkin Growers average on Saturday was 1,503.
"No one will come close to that anywhere else," Stelts said.