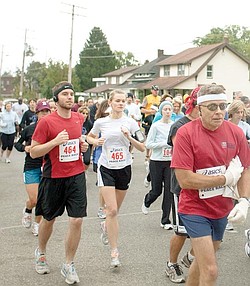 Photo
OFF AND RUNNING: Joe Scalzo, a Vindicator sports writer, left, runs his third Peace Race. Scalzo crosses the starting line Sunday on West Indianola Avenue with his wife, Tiffani, center, running her first 10-kilometer race.
Youngstown Peace Race 2009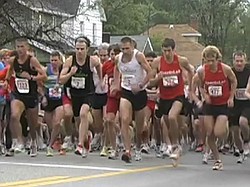 Video
Columnist seeks help from above — and wherever else he can find it — toward 11th-place finish in his age group
At 8 a.m. on Sunday, two hours before my wife runs her first 10K, I walk into our bedroom to find her applying Secret-brand deodorant to her feet.
That's going in the column, I said.
"No!" Tiffani said. "I learned it from John Tesh!"
Pause.
"That's going in the column too, isn't it?"
Yes, kids, that's going into the column. Sunday was Peace Race day, and when you're writing a first-person account of a race, the day can't start much better than that.
First, some background. This is my third Peace Race. Back in January, my wife (who had never run more than two miles at a time) and I decided we'd run this together.
I set a goal of running a 7:30-mile pace. I did an eight-week training program. Back in August, I even begged off covering Kelly Pavlik's Oct. 3 fight. (I think it got postponed or something.)
In short, I took it seriously.
Then I bought a house. Then I decided to move in the DAY BEFORE THE RACE.
There's only one word for this: idiocy.
(Column Break: I moved from Streetsboro to Liberty, which means my digital converter box now gets ALL FOUR NETWORKS, instead of just three, which means I was able to watch the Browns without turning to channelsurfing.net. Texting my brother back and forth, we decide "Hope without confidence" should be the Browns Backers motto.)
ANYWAY, the Peace Race is, hands down, the most stupendous 10K you can run, because it's in Mill Creek Park, because you're surrounded by 750 runners and because it's almost all downhill.
(Mainly because it's almost all downhill.)
There are only three rules:
U No spandex, unless it's under clothing.
U No wearing the T-shirt of the race you're running.
U No fanny packs.
All three are violated.
Before the Peace Race begins, they bus you to a South Side elementary school where you gather in an auditorium. I don't want to say it's in a bad neighborhood, but the auditorium is decorated with hubcaps.
(Really.)
"I can't believe so many different people of all ages, shapes and sizes are out here for this," my wife said. "Why do they do it to themselves?"
My wife is not a runner.
The race's only negative is the start. Because there's so many people — and because I was near the back with my wife — it's hard to start fast.
(Unless you're near the front with the mutants, which is defined as "anyone who runs a 6-minute mile pace or faster." I am not a mutant.)
I get off to a very, very, very bad start. Heinously bad. Tear-inducing bad. I run my first mile in 8:10.
This is like falling behind 14-0 in the first five minutes of a football game. You pretty much eliminate your margin of error. I'm already formulating excuses. Bad start. Sore from moving. Beard drag. (I haven't shaved in two weeks.)
But I can hear William of Occam tsk-tsking me through the centuries. The simplest answer is usually the correct one. If I'm fast enough to do it, I'll do it.
And hey, how do you eat an elephant? One bite at a time.
How do you make up 40 seconds? One step at a time. Or with roller blades.
Second mile: 15:25. Or a scooter.
Third mile: 22:45. That's more like it. I'm dropping time. I'm feeling good. I keep looking for my arch nemesis Rich Morgan of WKBN (I always use my Sideshow Bob voice when I say this), but, it turns out, he's not here.
Scared, probably. Same with Mayor Jay Williams.
Scared, I tell you.
Miles 4-5: I don't remember much about these. I think my tongue was hanging out of the side of my mouth. Since we skipped church today, I decide to recite some verses from Romans 7: "I do not understand what I do. For what I want to do, I do not do, but what I hate I do. ... Who will rescue me from this body of death?"
Midway through the sixth mile, heading up the Mahoning Avenue bridge into the city, I remember this is the point in the race where hope dies. They call it Cleveland Browns bridge.
(Related note: I hope you get hit by a garbage truck, Carson Palmer.)
Then, hope. The end stretch flattens out, my body has a little left and I find myself sprinting the last 100 meters down West Federal Street, starting at the clock, trying to get under the 46:20 mark to clinch my 7:30 pace.
I finish in 46:22. Just enough for a 7:29 pace. I finish ahead of my 2004 time (46:47) and my 2006 pace (48:47). I finish 164th out of 758 runners and 11th in my age group. I don't mean to brag, but I didn't lose to a single woman over the age of 58.
I enjoy my celebratory banana, then start walking back to find my wife so I can run the last mile with her. We struggle up the Mahoning Avenue bridge, then run through the finish. I feel satisfied, thinking I'm being a good husband.
"Actually, you just make me nervous," she said.
She says the sweetest things.
Tiffani finishes in 1:04.03, never once stopping to walk. I'm proud of her. She finishes 666th. This could be a sign we shouldn't have skipped church.
Afterward, I see a lot of runners I used to cover. One of the casualties of my job is you get used to covering the best of the best, which means you get pretty bummed out about your time when you see guys like Dave Mealy and Andy Morgan running five-minute miles.
They're mutants. But the runners I cover are friendly mutants. There are no egos in running.
"Because they wear such short shorts?" she asks, not unreasonably.
As we leave the city, we pull up at a red light behind a tan Ford Contour with a bumper sticker that reads: "Sorry I'm speeding: I've gotta poop."
"See honey?" I said. "That's why I didn't finish first."
scalzo@vindy.com