Timkos and family mark 50th year of couple's marriage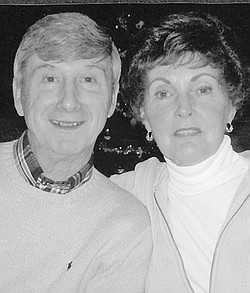 Photo
Mr. and Mrs. Andrew Timko
AUSTINTOWN — Mr. and Mrs. Andrew Timko of Austintown celebrated their 50th anniversary Sept. 27 with Mass at St. Christine Church in Youngstown, followed by a dinner at Rachel's Restaurant.
The former Adeline Delon and Andrew Timko were united in marriage Sept. 26, 1959, at Our Lady of Perpetual Help Church in McDonald.
Mr. Timko graduated from Ohio University and taught school in McDonald for 30 years. Mrs. Timko, a registered nurse, graduated from Trumbull Memorial School of Nursing, worked in various local hospitals, and taught at the Mahoning County Career and Technical Center for 26 years.
The festivity was celebrated with their children, Renee and John Simon, Bruce and Denise Timko, and Andrew and Lisa Timko. They also have eight grandchildren.