New rules required to prevent the flu
By WILLIAM K. ALCORN
VINDICATOR STAFF WRITER
New Rules: H1N1 Prevention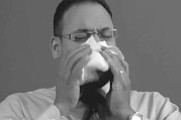 Video
How to prevent the spread of the H1N1 and seasonal flu.
Today Ohio newspapers have collaborated to publish a guide to flu prevention, which continues in these links:
Old school: A high-five greeting on the street or in school.
New rule: A finger snap salutation from 3 feet away.
Old school: A handshake in church during "the sign of peace."
New rule: A slight bow or wave.
Old school: Can I borrow a pen?
New rule: Can I borrow your hand sanitizer?
Wherever people congregate, be it church, school or work, chances are new rules are in place to limit bodily contact which could spread infections during the double whammy of seasonal and H1N1 (swine) flu viruses expected this fall and winter.
In fact, health officials recommend people extend their "personal space" to about 3 feet until the fear of a pandemic is over.
The Youngstown Diocese has gone so far as to issue a flier to churchgoers titled "Influenza Outbreak Response: Participation at Mass," outlining new rules for the "Sunday Obligation" in order that worshippers may avoid bodily contact during the flu season.
The flier came about because of a number of calls from parishioners and priests asking what they should do during the flu season, said Nancy Yuhasz, Diocese chancellor.
"Members of our congregation should not be offended if someone chooses not to shake the other person's hand at the sign of peace," the flier said, suggesting a bow or wave as alternatives.
Likewise, public health departments have mounted unprecedented flu-education and information campaigns, and schools are sending home information about flu symptoms and detailing when students and staff should stay home from school or work.
Mahoning County public health, health- care, school and safety organizations have met regularly for months to prepare for the worst-case scenario H1N1 flu pandemic.
The bottom line, said Dr. John Venglarcik, county health department medical director, is if a "very high percentage of the targeted population gets the vaccine, there will not be a serious H1N1 flu problem."
Prevention is key
While some new and unusual initiatives are being implemented, local and national public health officials say the most important precautions people can take to prevent the spread of the seasonal and H1N1 flu are the tried and true: Frequent hand washing, proper cough and sneeze etiquette, staying home from school and work when sick, and most importantly, getting the seasonal-flu vaccine now.
Also, those eligible for the first round of the H1N1 vaccine will be able to get it when it becomes available, probably later this month.
Austintown schools Superintendent Vincent S. Colaluca told parents in a letter that "children with a fever of 100 degrees or higher should stay home from school until their temperature is back to normal for 24 hours without the use of fever-reducing medication."
The Mahoning County Board of Developmental Disabilities also sent flu information to parents, guardians and caregivers, including symptoms and actions to take to prevent the spread of the disease.
"Students, families and staff must take personal responsibility for helping slow the spread of the flu," Superintendent Larry Duck wrote.
Mirroring the new procedure in other Valley districts, Duck asked that parents be available to pick up children who become ill while at school because they will not be permitted to ride home on the bus.
Keeping things clean
Schools also have a renewed emphasis on disinfecting common areas.
Maintenance crews at Youngstown Diocesan schools have been instructed to pay particular attention to disinfecting areas such as rest rooms, desks, handrails and door knobs. Also, hand sanitizer has been placed in cafeterias and classrooms, said Wally Dunne, diocese schools spokesman.
Austintown schools have added three employees to its cleaning staff specifically to clean and disinfect desks, door knobs, and hand railings at night, Colaluca said.
Similarly, the Trumbull County Board of Developmental Disabilities has contracted with a cleaning service to disinfect the agency's 35 buses, cafeterias, desks and other common areas overnight as it becomes necessary.
"We're just keeping our eyes and ears open and acting accordingly," Superintendent Douglas Burkhardt said.
The Trumbull County Educational Service Center is working through the Trumbull County Health Department, from which the county school district has received the Centers for Disease Control and Prevention Communications Tool Kit.
Schools face dilemmas
The recommendation from the CDC on school closings has evolved. Previously, CDC rules included closing the school of infected students for two weeks, but it now opposes automatically closing schools for isolated cases, said Rich Denamen, superintendent of the Mahoning County ESC.
Instead, Denamen said schools should send sick students home with a surgical mask to reduce the spread of the virus. However, if absences from the flu approach a critical level, schools should consult with local public health departments about the advisability of maintaining classes, he said.
Wes Vins, Columbiana County health commissioner, said a lot of children in Columbiana County who are home-schooled, plus a significant Mennonite population, may not have access to school-based shot clinics for whom the county health department may offer clinics.
The college-age population is one of the groups being hardest hit by the H1N1 virus, public health officials say, making Youngstown State University a target for prevention efforts.
The university had one student in September who tested positive for Type A influenza, of which swine flu is a variety. The student was masked and sent to her dorm, where arrangements were made to feed her, said Ron Cole, university spokesman.
Cole said the university is following the guidelines provided by CDC relative to influenza.
"We are telling students and employees that if they have a fever of 100.6 and other flu-like symptoms such as cough, sore throat, runny or stuffy nose, body aches and fatigue, they should stay home or in their residence hall," he said.
Working with the flu
The workplace is also a target for public health officials in limiting the spread of seasonal and H1N1 flu.
Employers are being asked by some public health agencies to relax absentee policies and urge employees to stay home when they are sick to help limit the spread of the disease.
For instance, a Columbiana County Health Department flier, "What Businesses Need to Know about the Flu," recommends that businesses consider ways to allow sick employees to stay home without fear of losing their jobs. The flier also recommends developing flexible leave policies so employees can stay home to care for sick family members or children if schools or child-care programs are closed.
At the Lordstown General Motors complex, company and union officials met Sept. 29 to discuss plans for the flu season and how to handle absenteeism in the face of a recently enacted stricter absenteeism policy.
"We are planning to coordinate our efforts on a wider scale with area schools, health departments and other workplaces," said David Green, president of United Autoworkers Local 1714 at the fabricating plant.
"Our first step is communicate with our members to make sure they understand prevention measures, such as hand-washing and coughing and sneezing into a tissue or their sleeve, and we will be having seasonal flu shot clinics in the plant," Green said.
Agencies stand ready
Social service agencies are also gearing up for the flu season.
Help Hotline telephone crisis and information center has received information from the Mahoning County District Board of Health to give to people when they call 211 for help, said Duane Piccirilli, agency executive director.
"We're a first line of defense offering information on precautions, symptoms and where, depending on seriousness of their illness, callers should go for treatment," he said.
The American Red Cross Northern Ohio Blood Services Division, with headquarters in Cleveland, is asking donors to follow the normal recommendations of frequent hand washing and cough and sneeze etiquette. To put donors at ease about giving blood, the Red Cross said additional precautions will be put in place when recommended by the CDC or local public health officials.
For example, new practices, such as placing donor beds farther apart and pre-screening donors before they enter a site, could be enacted, said Christy Chapman, communications manager for the Northern Ohio Region.
---
PREPARING FOR PANDEMIC FLU
During a flu pandemic, government officials may be required to limit community movement or impose travel restrictions to help prevent the flu virus from spreading.
Here are things to keep in mind:
You may be asked to stay home for an extended period of time even if you are not sick.
Schools, workplaces and public gatherings such as sporting events or worship services may close temporarily.
Mass transportation such as subways, buses, trains and air travel may be limited.
You, your family and friends may need to rely on one another when you cannot depend on the services you normally use.
Think about how you handle stress and know your strengths. Take steps to plan for, get through and recover from a flu pandemic.
Planning at Home
Store a two-week supply of food. Select foods that do not require refrigeration, preparation or cooking. Ensure that formula for infants and any child's or older person's special nutritional needs are a part of your planning. Plan for your pets as well.
Store a two-week supply of water — one gallon of water per person per day — in clean plastic containers. Avoid using containers that will decompose or break, such as milk cartons or glass bottles.
Store a supply of nonprescription drugs, such as pain relievers, cough and cold medicines, stomach remedies and anti-diarrheal medication, as well as vitamins and fluids with electrolytes, such as sports drinks.
Store health and cleaning supplies, such as bleach, tissues, a thermometer, disposable gloves, soap and alcohol-based hand sanitizer.
Ask your health care provider and health insurance company if you can get an extra supply of your regular prescription drugs and medical supplies, such as glucose monitoring supplies.
Talk with family members and loved ones about how they would be cared for if they got sick.
Planning in Your Community
Ask about plans to enable you to stay home if you are or a family member is sick.
Find out your employer's plans to keep the business open if key staff can't come to work.
Find out now about your child's school or day care provider's plans for handling a flu pandemic.
Ask if there are plans to encourage sick children to stay home to reduce the spread of the disease.
Ask if there are plans to close during a pandemic that would require all the children to remain at home.
Finding out the answers ahead of time will have a significant impact on your plans and decisions during a flu pandemic.
Source: American Red Cross