PANORAMA: St John's Episcopal Church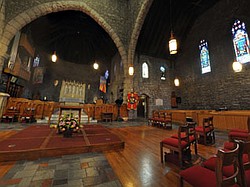 Video
By Sean Barron
St. John's Episcopal Church to celebrate sesquicentennial
The North Side Episcopal church was founded in 1859 as a Sunday school.
YOUNGSTOWN — When a church remains strong and steadfast through the Civil War, two world wars, the Great Depression and the demise of the steel industry and subsequent population loss, it's probably safe to say that the church rests on a firm physical as well as spiritual foundation.
That realization likely won't be lost on those who plan to attend services during two days of festivities to celebrate the sesquicentennial of St. John's Episcopal Church, set for Oct. 10 and 11.
The public is invited to a traditional Anglican Choral Evensong with full choir that begins at 4 p.m. Oct. 10 and to a Festival Eucharist, set for 10:30 a.m. Oct. 11.
The church, at 323 Wick Ave. on the city's North Side, was established in 1859 near the intersection Wood and Champion streets as a Sunday school. The current building was dedicated in May 1898, after fire destroyed the original in 1896, and consecrated about two years later.
Bill Farragher of Canfield, who's been a member for more than one-third of St. John's existence, recently shared several fond memories of the church while reflecting on the transformations he's seen over more than a half century.
"It's been a kind of mirror for the Valley," said Farragher, referring to the mix of management and labor people that filled the pews, which was uncommon in most churches during the 1950s.
Starting in the 1960s, he recalled, women gradually became a greater force at the church, filling traditionally male roles such as administrators and clergy; one woman was an assistant priest, Farragher noted.
Now, the church is a bastion of racial diversity and features a good representation of students and faculty from Youngstown State University, he pointed out, adding that it continues to enjoy a close relationship with Wick Neighbors, a group that's playing a major role in the development of Smoky Hollow.
Many of Farragher's connections to St. John's are quite personal, too, such as when he joined, and married his wife, Arden, both in 1951, and was baptized in 1929.
For a while, Farragher got to St. John's each Sunday, courtesy of the Idora Park trolley that dropped him off near the main branch of the Public Library of Youngstown and Mahoning County next to the church.
St. John's stepped up to help the community after the steel industry collapsed in the late '70s, in part by providing training sessions for those who found themselves out of work. The sessions covered topics such as filling out resumes and applying for jobs, noted Farragher, a retired marketing consultant for McDonald Steel.
The church eventually realized the extent of the number of people in need, so it began a soup kitchen in 1981; after that, St. John's worked with Second Harvest Food Bank of Mahoning Valley and established the Red Door Caf to serve those in need, he continued.
This year, the Episcopal church decided to distribute bags of nonperishable foods the third Saturday of each month to those less fortunate.
"Once again, the parish is involved in community work," Farragher added.
An examination of St. John's history would be incomplete if the emphasis it places on music, as well as the significance of 10 clerestory windows, was ignored.
For more than 60 years, a boys' and men's choir performed during services and put on concerts in the city and beyond. The choir continues to be an integral part of Sunday worship.
The church offers traditional Anglican music, which includes occasional chants, that's not often heard anymore, noted Martie Witt, the sesquicentennial event's organizer.
"The music is unique. It's one thing that keeps them coming back," Witt said, adding that the church draws people from all over the Valley and as far away as New Wilmington, Pa., and the Cleveland suburbs.
The 10 stained-glass windows in the sanctuary were installed in the mid-1950s and feature images of men making steel while telling a story of how the industry helped build the region. Inscribed on each is a text from the Book of Psalms.
At the rear are two columbariums, compartments where a deceased person's ashes are interred and on which that person's name is affixed.
St. John's follows a liturgy called via media (the middle way), which is part Protestant, part Catholic, noted Priscilla Hays, church administrator. It is in keeping with the Anglican Communion, dating to when Queen Elizabeth I established communion to bring peace to England during bitter fighting between Protestants and Catholics, Hays explained.
"People feel comfortable because it's a little of both," she added.
The church's future include building a residence in Smoky Hollow in conjunction with Wick Neighbors, Witt said.
Meanwhile, a search committee is looking for a permanent rector to replace the Rev. John Horner, who retired in January. People from all over the country are in a pool of potential candidates, and parishioners' opinions are being considered with respect to choosing someone who will be a good fit, Witt explained. Serving as interim rector is the Rev. Erwin M. Smuda.
Also part of St. John's plans is to continue its practice of being all inclusive and a bit less formal, Witt said.
"We welcome everyone," she added.
---
ST. JOHN'S EPISCOPAL CHURCH A look back
The longtime church on Wick Avenue is preparing to celebrate its sesquicentennial Oct. 10 and has seen many changes over the years. A brief history:
In December 1859, the church was founded shortly after a group of Episcopalians decided to form a parish in Youngstown.
Two years later, the church was built on Wood Street, and the first minister was the Rev. Wyllys Hall.
As the city grew, so had the church, leading to the founding of several mission chapels for members who were unable to get to Wood Street. The first was St. James' Chapel in Smoky Hollow.
Around 1880, articles began appearing in newsletters detailing how female parishioners collected and distributed food and clothing to those in need.
In 1896, fire destroyed the Wood Street church, which led to the building of the current one.
From about 1898 to the 1960s, the boys' and men's choirs performed in Youngstown and surrounding areas. The choirs continue to lead Sunday worship and offer the annual Boar's Head Festival, an Epiphany pageant with congregational and choral music as a gift to the area.
The church has a longtime history of outreach, which included helping people during the Great Depression.
In the 1960s, St. John's helped open the Gates of Eden Coffee House for students, and the church continues to reach out to students and faculty of Youngstown State University.
In 2001, the Rev. John Horner founded Wick Neighbors, which is dedicated to revitalizing Smoky Hollow, promoting collaboration among Wick Avenue businesses and institutions and many other goals. The Rev. Mr. Horner also began a healing service, which meets at 2 p.m. the first Wednesday of each month.
In 2006, the Rev. Jeremiah Williamson started Thinking Christians, a group that meets weekly at YSU and acts as a forum for students to discuss questions of faith. The gathering also performs community-service projects.
Prominent members include David Tod, Ohio governor during the Civil War; Edward Ford and his family, including his son, Judge John Ford; and William F. Maag Jr., former owner of The Vindicator as well as WFMJ-TV and radio.
Source: St. John's Episcopal Church