'What Thanksgiving is all about'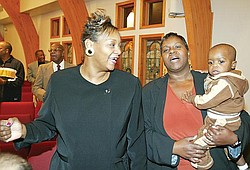 Photo
PRAISE: Elizabeth Missionary Baptist Church in Youngstown opened its doors for a Thanksgiving eve service. Singing were Yvette Walker, left, and Adrien Boudrey with her 15-month-old grandson Kevin Boudrey — all from Youngstown.
By RICK ROUAN
VINDICATOR STAFF WRITER
YOUNGSTOWN — Deacon Willard Gidney's Thanksgiving prayer wafted softly over the parishioners at Elizabeth Missionary Baptist Church.
He prayed Wednesday night over the churchgoers from Elizabeth Missionary Baptist, Holy Trinity Baptist, Metropolitan Baptist and New Birth-Kimmelbrook Baptist churches, which came together as one congregation for the "Oh Give Thanks" Thanksgiving eve service.
"It's good to remember the things of the past, the things that have made your life great," Deacon Gidney said. "It's good we can come together tonight to praise the Lord."
And when his prayer was finished, the church erupted in a praise song, giving thanks to God for the blessings that have led to this Thanksgiving.
"We always want our congregation to know what Thanksgiving is all about," Gidney said.
The "Oh Give Thanks" service is in its second year, said J. Dwayne Heard, senior pastor at Elizabeth Missionary.
Last year, the churches raised money to help pay medical bills of another pastor's wife, who couldn't attend because of a liver transplant. This year, however, that woman was set to give testimony to the parishioners.
"For us, it's really a high holiday," Pastor Heard said. "We're here because we're thankful ... to God."
Deacon Gidney said that he dreams of a day when local churches can pack the Covelli Centre for a Thanksgiving service.