Phantoms hoping home has skid cure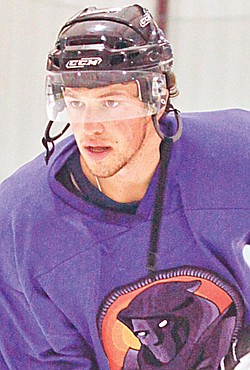 Photo
Brian Dowd at Phantoms practice, Wednesday September 9, 2009.
The Lincoln Stars will play twice this weekend at the Covelli Centre.
By JOHN KOVACH
VINDICATOR SPORTS STAFF
YOUNGSTOWN — The Youngstown Phantoms will try to get back on the winning track Friday when they play host to the Lincoln Stars in the opener of a five-game homestand at the Covelli Centre.
Game time is at 7:15 p.m.
The Phantoms are coming off their first two-game losing streak, falling to the Sioux Falls Stampede (3-0) last Friday and the Sioux City Musketeers (4-2) on Saturday.
Those setbacks dropped Youngstown into fifth place in the United States Hockey League East Division standings with an 8-7-1 (17 points) record. The Phantoms are four points out of first place held by Green Bay (9-5-3, 21 points).
To shed the losing streak, the Phantoms are hoping to get continued strong play from Brian Dowd, a 20-year-old forward for the Phantoms who has been somewhat of a scoring machine of late.
Dowd (5-11, 180) of Williamsville, N.Y., who comes from Niagara University (an NCAA Division hockey program), had three goals and six assists for nine points in his last nine games.
Dow has five goals and seven assists for 12 points to share second place in Phantoms scoring with forward Brett Gensler.
Coach Bob Mainhardt said that Dowd has been and experienced force for the team, and is looking for more contributions from him.
"He is our most experienced player, having played in the USHL and college hockey for one year, and so we are hoping his experience could help us through some of the tough times," Mainhardt said Wednesday. "We are looking for him to help the team get out of this losing streak.
"Brian has turned into a quiet leader and that's how he is most effective," Mainhardt said. "He needs to work hard and lead by example, and when he does that he earns respect."
But Mainhardt said the entire team has to rise to the occasion and do what's necessary to regroup from the slump.
"We are a big physical team and we play physical," Mainhardt said. "We have to impose our will on opponents, and that's what it comes down to, [and] we know we will be able to do that."
However, he said the team is battling injuries.
"We're pretty banged up so it's the 20 healthiest players who will be playing," Mainhardt said. "Stu Higgins will be back this week. He didn't play last week because of his grandfather's death, and he was with his family."
Mainhardt will stick with goaltender Matt Mahalak.
"We feel Mahalak has played really and well and had given us a chance to win so we are going to stick with him," the coach said.
The Phantoms' top scorer is Taylor Holmstrom with five goals and 10 assists for 15 points.
Youngstown and Lincoln have met once before this season on Oct. 21, with Youngstown winning, 7-6, in overtime at the Ice Box in Lincoln.
The Stars are in last place in the West Division with a 6-11-0 record and 12 points.
The Phantoms and Stars will play again Saturday at 7:15 p.m.
Then Youngstown will play host to the Chicago Steel on Dec. 4-5 and the Indiana Ice on Dec. 10 to complete the homestand.
kovach@vindy.com