A Youngstown youth is the program's 37th inductee.
By JORDAN COHEN
VINDICATOR CORRESPONDENT
Alan Hinton Pilot for a day.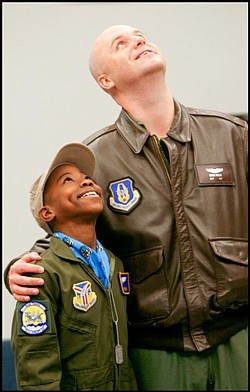 Gallery
Alan Hinton, age 11 of Youngstown, was Pilot for a day at the Vienna Air Base.
Alan Hinton of Youngstown smiled and stood at attention in his new flight suit as any newly commissioned young officer would do.
Alan, however, is only 11, and he had just been sworn in Wednesday as an honorary Air Force Reserve second lieutenant in the "Pilot for a Day" program at the Youngstown Air Reserve Station in Vienna.
"This is fun," said the soft-spoken Crandall Avenue resident after taking his oath of office from Lt. Col. Craig Peters, the operations group commander.
"We do four of these a year for children who suffer from chronic or life-threatening illnesses," said Maj. Brent Davis, the air station public-affairs officer.
Alan, a sixth-grader at Youngstown Community School, suffers from sickle cell anemia and was selected by
Akron Children's Hospital of the Mahoning Valley for the "Pilot for a Day" program.
Sickle cell anemia is an inherited blood disorder that impacts red blood cells and can lead to damaged tissue. The disease primarily affects black Americans and others of sub-Saharan African descent, according to the National Institutes of Health.
"He doesn't say much about it, but sometimes he questions why he is sick," said his mother, Cynthia Burgess-Hinton, a resident attendant at an assisted-living facility. "It's just something people get, but, thank God, he has a mild form."
Burgess-Hinton said her son takes one pill a day, but on rare occasions has to go to the hospital when he experiences severe pain.
All of that seemed far from Alan's mind as he was given a tour of the base.
"At first, I thought this was going to be scary," said Alan, who admitted he is shy about meeting people. "Now I'm excited."
The young honorary pilot had a chance to experience night-
vision goggles in a dark area, a ride on a firetruck and topped his day by sitting in the cockpit of a C-130 Hercules Transport as it taxied down the runway at nearly 80 mph before returning to the air base.
Alan's name and rank were stenciled on the hatch of the four-
engine, $33 million aircraft.
Davis said the program is in its 10th year, and Alan is its 37th inductee.
"We want these kids to have a ray of sunshine in their lives," Davis said.
Pilot for a Day is financed by the station's Base-Community Council.