Cold-shooting YSU loses to Kent, 70-55
YSU Womens Basketball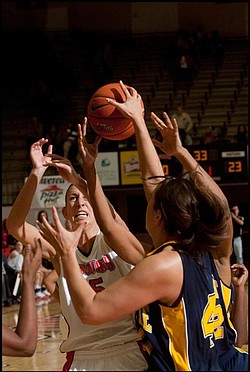 Gallery
11.18.2009 Kent State defeats YSU's Women Basketball Team 70-55 at Beeghly Center on Wednesday evening.
The Penguins shot just 21 percent from the field in the first half and couldn't recover.
By PETE MOLLICA
VINDICATOR SPORTS STAFF
YSU Womens Basketball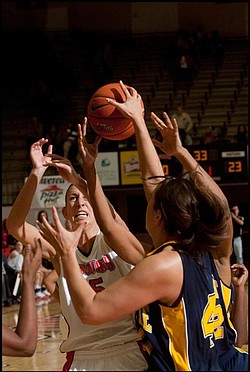 Gallery
11.18.2009 Kent State defeats YSU's Women Basketball Team 70-55 at Beeghly Center on Wednesday evening.
YOUNGSTOWN — Youngstown State women's basketball coach Cindy Martin was not satisfied with her team's efforts Wednesday night, but she was happy with the way they played.
The Penguins (0-3) suffered a 70-55 loss to Kent State at Beeghly Center, but they went down fighting all the way.
A poor shooting first half (20.7 percent) got the Penguins in trouble early, but they never quit and despite only a seven-play healthy roster were still within striking distance of the Flashes (2-0) late in the contest.
"Was I satisfied, no I wasn't, but was I happy with their effort, yes I was," said Martin, in her second season with the Penguins.
"We didn't shoot the ball very well in the first half, but we never quit shooting and I'd rather have them taking those shots then not shooting at all," she added.
The Penguins improved to 46.2 percent in the second half and finished 32.7 for the game, but Martin wasn't pleased with the 22 turnovers or the fact that the Penguins were outrebounded 50-32.
"I thought that we needed to make a better effort of getting the ball inside to our post players," she added. "We had Rachel [Manuel] and Brandi [Brown] open all night inside and we just didn't get them the ball enough."
Five-foot-3 sophomore guard Macey Nortey led the Penguins with a career-high 20 point game, while also in double figures were Bojana Dimitrov with 15 and sophomore Kenya Middlebrooks with 12.
Former Howland High standout Ellie Shields had four points for the Golden Flashes, while Jamilah Humes led the way with 14 and Yoshica Spears had a double-double with 12 point and 13 rebounds.
The Penguins jumped out to an early 10-2 lead on the Flashes, who also didn't have a great shooting effort and made just one of their first 10 shots.
But then the Penguins went stone cold from the field and didn't score a field goal for over nine minutes as the Flashes regained the lead, 14-13, with 7:01 remaining. They never trailed again.
Kent led by five 20-15 when Nortey made a three-point play to cut the lead to two and the Penguins were still down bty just four with just over two minutes left before the Flashes pulled to a 31-22 half-time lead.
Kent extended its lead to 43-31 and then led by as much as 16 points, 52-36, with 9:33 remaining, but the Penguins came back again, this time by freshman Brandi Brown on a rebound shot and then Nortey on a 3-point bucket and the Penguins were within 11 points 45-43.
YSU got the lead down to 10 points 65-55 with 1:30 remaining, but could get no closer.
The Penguins are now idle until Sunday when they will play host to Canisus in a 2 p.m. contest at Beeghly Center.
mollica@vindy.com