AUDIO: Police investigate leads in shooting deaths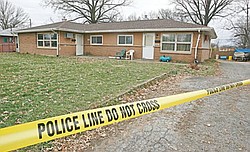 Photo
SHOOTING SCENE: This is the home at 3022 Northgate Drive, Liberty Township, where a woman and a female juvenile were found shot to death late Sunday. The names of the victims were not released Monday.
The young homicide victim sang in the middle-school choir.
LIBERTY — Township police are exploring many leads as they probe the shooting deaths of Wilneice L. Green, 28, and her daughter, Ja-Brajasia Green, 13, who were killed late Sunday at 3022 Northgate Drive.
Dr. Humphrey Germaniuk, Trumbull County coroner, said the case is an "open homicide" and remains under investigation. No cause of death has been released.
Liberty police Capt. Toby A. Meloro said Tuesday that many leads are being explored, but he had no further comment.
The police report notes that two officers responded to a 911 call about 11:15 p.m. Sunday concerning a shooting. Upon arrival at the Northgate address, the officers were met at the door by "two screaming juveniles," the report said.
The officers found the juvenile victim on the kitchen floor. She was unresponsive and in a pool of blood. Officers then called for medical assistance.
One officer took the juveniles to the living-room area while the other continued to search the house. He found the adult victim in a bedroom, and she also was unresponsive. The officer also found two infants and took them into the living room.
The fire department's emergency medical technicians advised police that the victims had died; the juveniles were released to family members.
Ja-Brajasia was an eighth-grader at William S. Guy Middle School, which houses fifth through eighth grades and has about 500 students. She also had attended elementary school in Liberty.
Mark Lucas, schools superintendent, said Ja-Brajasia sang in the middle-school choir. "She was quiet, well-behaved and respectful. She had many friends," he said.
Lucas said grief counseling was available to students Monday and Tuesday and will continue as needed. "The level of counseling depends on the friendship," he said.
He said Trumbull County Educational Services Center assists districts with counseling. Counseling takes place on a one-on-one basis and in groups, he said, to help students deal with the trauma.
The double homicide occurred in the southern part of the township. The victims were new in the neighborhood but had moved there from another place in Liberty.
Meloro has asked the county prosecutor's homicide task force for assistance.
Meloro described the neighborhood as basically a quiet one. Neighbors in the Northgate Drive neighborhood were surprised at the events inside the one-floor duplex Sunday night.
Liberty's last homicides took place in the 1990s. There was a double homicide in January 1993 of township residents Peter J. and Tressa Amon, and a fatal stabbing of Jerry K. Johnson in 1995.
linonis@vindy.com