YSU seniors dominate player of week honors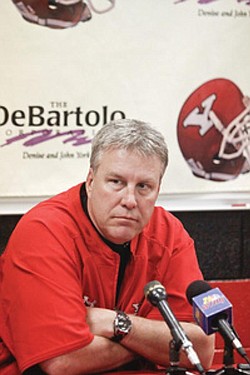 Photo
ONE MORE GAME: YSU coach Jon Heacock is hoping his team can end its season with a victory on Saturday at North Dakota State.
YSU vs Illinois State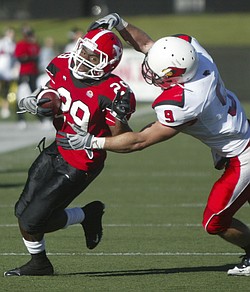 Gallery
By Pete Mollica
Quarterback Brandon Summers was named the MVFC's top offensive player.
YOUNGSTOWN — Last Saturday was Senior Day at Stambaugh Stadium and the 12 Youngstown State football seniors made it a good one, leading the Penguins to a 30-18 victory over Illinois State.
Because of their efforts, the seniors dominated this week's Player of the Week honors for the team, which now gets ready for its season finale Saturday at North Dakota State. Kickoff is set for 2 p.m. at the Fargodome in Fargo, N.D.
Senior quarterback Brandon Summers led the way for the award winners as he had his best performance of the season, passing for 346 yards and two touchdowns. For the first time since the second game of the season, he didn't throw an interception.
In addition to being named the team's offensive player of the week, Summers, a 6-foot-2, 200 pounder from Southfield, Mich., also earned the Missouri Valley Football Conference offensive player of the week honor.
After the game, Summers was asked whether he was more excited about passing for a near-career high in yards or not throwing an interception.
"They were both good, but the important thing is that they both led to a victory and that's what matters most," Summers said.
"I know that I felt really good out there and the whole team was just very loose," he said. "It is definitely a major confidence builder going into our final game."
While Summers was taking the offensive honors, the defensive player of the week was senior Draye Ersery, a 6-0, 215-pound linebacker from Colorado Springs, Colo.
Ersery, who has played a backup role most of the season when he wasn't injured, started against the Redbirds and tied for the team lead in tackles with 11.
Ersery was also named the Haines Family player of the game by the YSU radio broadcast team.
The Jim Zdelar offensive lineman of the game was senior Brian Mellott, a 6-3, 280 pounder from Austintown. The Jermaine Hopkins defensive lineman award went to senior tackle Crispin Fernandez a 5-10, 280 pounder from Porterville, Calif.
Special team honors for the week was shared by the entire YSU kickers, holders and long snappers.
Junior kicker Stephen Blose led the way with three field goals, a career best. He made kicks of 45, 35 and 37 yards and had one kick blocked. He also contributed with two onside kickoffs, one was recovered by the Penguins.
"I take the responsibility for the blocked kick," Blose said. "It was my fault that it was a low kick. I had great support in my holder and snapper and the line has given me great protection."
His holder is sophomore quarterback Marc Kanetsky, a Hubbard native, while the snapper is snapper Nate Schkurko from Twinsburg.
Also honored in special teams were the Penguins punters led by senior Ben Nowicki, who although he had a punt blocked by the Redbirds made a gallant effort to recover the ball in the end zone to avert a touchdown by the opposition. Nowicki was hurt on the play and did not return and probably won't be available this week at North Dakota State.
Filling in after Nowicki was hurt was junior Erik Johnson of Boardman, who averaged 34.5 yards a kick and had three downed inside the Redbirds 20 yard line.
The Wash-On-Wheels Derek Pixley Hit of the week was made by senior cornerback Lenny Wicks, while Summers was also named to the Wells Fargo Leadership Award for the game.
There were other seniors who also contributed highly to the victory including wide receiver Donald Jones who caught seven passes for 105 yards.
Wicks tied with Ersery for the lead in tackles with 11 and senior tailback Kevin Smith had his third 100-yard rushing game of the season getting 121 on 27 carries and one touchdown.
"It was their day and they did the job," YSU head coach Jon Heacock said.
mollica@vindy.com
---
PLAYERS OF THE WEEK
Hill, Barth & King Offensive Player: Brandon Summers (6-2, 200, Sr.) quarterback from Southfield, Mich.
Hill, Barth & King Defensive Player: Draye Ersery (6-0, 215, Sr.) linebacker from Colorado Springs, Colo.
Hill, Barth & King Special Teams Player: All kickers, holders and snappers.
Jim Zdelar Offensive Lineman: Brian Mellott (6-3, 280, Sr.) guard from Austintown.
Jermaine Hopkins Defensive Lineman: Crispin Fernandez (5-10, 280, Sr.) tackle from Porterville, Calif.
Scout Offensive Player: Trey Rich (5-10, 175, Jr.) wide receiver from Memphis, Tenn.
Scout Defensive Player: D.J. Moss (6-0, 255, Fr.) tackle from Austintown.
Scout Special Teams Player: Nick Liste, (5-11, 180, Fr.) kicker from Niles.
W.O.W. Derek Pixley Hit of the Week: Lenny Wicks (5-10, 190, Sr.) cornerback from Pittsburgh.
Haines Family Player of the Game: Ersery.
Wells Fargo Leadership Award: Summers.