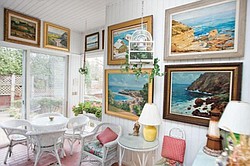 Photo
LET SUNSHINE IN: The sun room at the Inn at the Green is a spot where many visitors enjoy breakfast.
Poland couple decides it's time to move on
By DENISE DICK
VINDICATOR STAFF WRITER
After nearly 25 years running the Inn at the Green bed and breakfast in Poland, Steve and Ginny Meloy have decided there's room at the inn for a new owner.
They put the South Main Street inn on the market last week, saying they want more free time to spend together.
"There was a couple that stayed here this summer, and they were retired from Arizona," Ginny said. "They said, 'It's so nice to get up in the morning, look across the table at one another over a cup of coffee and say: What are we going to do today?'"
The Meloys want more time to say, "What are we going to do today," she said.
It will be like when they first married, before they had three children.
"The inn has been sort of like a child — taking care of it," Ginny said.
They've been running the inn for more than half of their married lives.
The couple bought the historic Walter Arrel house, built in 1876, in 1985. They restored it and converted it into a bed and breakfast that opened in 1986.
They wanted to save the old house they used to walk past on daily strolls.
"I'm a preservationist," Steve said. It was his idea to buy the home and convert it into a bed and breakfast, at the time the 12th in Ohio.
Ginny wasn't initially enthused about the idea but went along because Steve wanted to do it.
"I think he's sort of a visionary," Ginny said. "It did take vision to look forward and see that this could be successful."
Steve chuckled.
"My vision looks backward," he said, pointing to his yen to preserve history.
The couple is asking for $299,000 for the 3,300-square-foot building with five bedrooms, 51'Ñ2 baths and five marble fireplaces. They plan to continue to operate it until it sells.
They moved to the village from Perrysburg, Ohio, in 1965, when Steve joined a law firm. Ginny taught preschool at nearby Poland Presbyterian Church.
They moved from their home on North Lima Road into a living quarters at the inn in 1993. When the inn sells, they plan to remain in Poland and hope to buy another historic home.
Over the years, the Inn at the Green has hosted famous people, including Watergate organizer G. Gordon Liddy as well as regular folks traveling across the country or returning to visit family or friends.
The Meloys keep scrapbooks, documenting some of the more famous guests as well as notes and letters from those who have stayed.
Many guests become regulars, the couple said, and like family.
Besides preservation, running the inn also enabled Steve to indulge his other passion: getting to know people.
"The thing about a bed and breakfast is the term 'breakfast' means you have a chance to meet and speak with the owner," he said.
Many people who frequent B&Bs are looking for that personal touch. They want to learn about the buildings, the history and the community from the owner — to exchange travel stories, he said.
You don't get that personal aspect at a hotel or motel, he added.
Ginny said operating the B&B has been a challenge, both creatively and from a business standpoint, but she has no regrets.
"It's been the most rewarding experience," she said. "I feel so blessed to have been able to do this. I've had a family, been a preschool teacher, lived in a historic home, run an inn. It's been a great life."
denise_dick@vindy.com