Photo
YSU Vance Cooksey (4) shoots to score against Hiram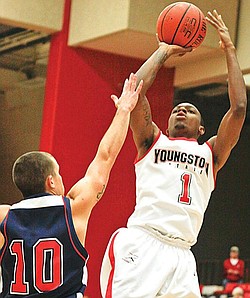 Photo
PENGUINS ROLL: DeAndre Mays (1) shoots past Hiram's Nick Russo (10) during Sunday's game at Beeghly Center.
The Penguins dominated the Division III Terriers at Beeghly Center.
By Pete Mollica
YOUNGSTOWN — Youngstown State men's basketball coach Jerry Slocum felt his Penguins got what they needed to get out of their first two games of the season.
After dropping an 83-57 contest to nationally-ranked Xavier on Friday, the Penguins came back to trounce Division III Hiram 81-41 in their home opener Sunday at Beeghly Center.
"I don't even look at the scoreboard in these early games because the only thing that I'm concerned with is our execution," said Slocum, now in his fifth season with the Penguins. "I felt we got out of the first two games what we needed to get out of them."
"The Penguins (1-1) now get set to take on Kent State on Wednesday night at Beeghly, an opponent that Slocum said falls somewhere between the first two opponents.
"Tonight, we got a chance to play and to get a good look at everybody," Slocum said. "I thought that we took some bad shots early on tonight, but we played very well over the final nine minutes of the first half."
The Penguins used 12 players in the contest and 11 of them were in the contest for at least 10 minutes.
Three players finished in double figures led by junior guard Vance Cooksey who finished with 18 points and eight rebounds. Redshirt freshman Eddie D'Haiti had his first collegiate double-double with 12 points and 10 rebounds and added six assists. Senior DeAndre Mays scored 10 points.
"I though Eddie [D'Haiti] did a great job tonight, especially passing the ball," Slocum said. "I've never coached a big kid who passes the ball as well as he does."
D'Hatti still feels he's a better shooter than passer.
"I think I'm a better shooter, but I certainly enjoy passing the ball," he said. "Tonight, those six assists meant more to me than the points because I really love to get my teammates involved."
The 6-foot-8 forward from Orlando, Fla., sat out last season as a redshirt, but felt it was very beneficial to his career.
"I learned so much and I got an opportunity to see what the Horizon League is all about and it's really going to help me this season," D'Hatti said. "When you sit, you learn."
Slocum said that in both of the first two games he was pleased with the way the team shared the minutes and the ball.
"They've all worked very hard in practice and it's showed up in the games," Slocum said.
The Penguins made just 3-of-18 3-point shots against the Terriers, who were opening their season and that was the only statistic which Hiram was even close to the Penguins.
"We took some bad shots early on, but I'd still like them to take between 14 and 16 3-point shots in the game," Slocum said. "We've got some good 3-point shooters and they'll continue to get better."
Hiram led only once in the game as Deon Milton hit the game's opening shot, a 3-pointer before the Penguins went on top 5-3 and never trailed again.
Leading 20-14 with just over nine minutes left in the half, the Penguins reeled off 11 straight points to take a 31-15 lead. The Terriers never got closer as the Penguins led 42-24 at intermission.
Another 14-0 run midway in the second half broke the contest wide open with Cooksey and junior Vytas Sulskis getting eight of them for a 62-30 advantage.
The Penguins reached the 40-point margin with about two minutes remaining 78-37 after Cooksey scored five straight points.
The Penguins, with their height advantage, dominated the rebounding 62-26, while the Terriers didn't help themselves shooting just 22.2 percent from the field including 18.5 percent in the second half. They were 3-of-19 from behind the arc.
Chris Roberts led the Terriers with 16 points, the only player in double figures.
mollica@vindy.com