IN FOCUS: A historically beautiful gift
IN FOCUS: Stambaugh Auditorium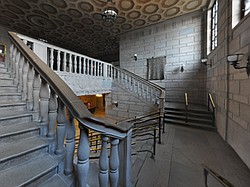 Video
IN FOCUS: Stambaugh Auditorium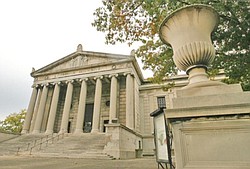 Gallery
A COMMUNITY TREASURE WITH DESIGN INFLUENCE FROM THE PANTHEON
By ROBERT K. YOSAY
VINDICATOR CHIEF PHOTOGRAPHER
YOUNGSTOWN — "This Auditorium — the gift of Henry Hamilton Stambaugh (1858-1919), a manufacturer, lover of nature of country of mankind — is dedicated to the people of this great community among whom he lived."
High above the gothic columns of granite at the main entrance of Stambaugh Auditorium are the marble-inlaid, gold-leafed words attesting to the magnificent structure on the city's North Side.
The intent of the local industrialist and philanthropist was that the auditorium that bears his name was to be used "for the enjoyment, pleasure, entertainment and education of the community," according to the auditorium's Web site.
Architecturally, the auditorium is a free rendition of classic Italian Renaissance style. The structure, built at a cost of less than $2 million, was modeled after the public auditorium in Springfield, Mass., which, in turn, was designed from the Pantheon in Rome.
Helmle and Corbett Architects of New York City designed and built the facility. It was listed on the National Register of Historic Places in 1984.
Originally intended to be erected either downtown or at the center of Wick Park, the 300-by-70-foot site at 1000 Fifth Ave. proved to be a wise choice, one that was enlarged to provide for parking areas when more land became available. Indiana limestone was used for the exterior walls.
Inside areas feature top-quality oak paneling, marble benches, a historic E.M. Skinner pipe organ and Steinway and Baldwin grand pianos.
The opening concert was Dec. 6, 1926. Sponsored by the Monday Musical Club, the program featured world-renowned humorist Will Rogers and the DeReszke Singers.
Stambaugh Auditorium is still busy today with year-round events, including dance competitions, weddings and receptions and graduations. The auditorium has become a business meeting center for the community and even has been used in movies as well as a go-to spot for wedding photographers.
Most recently, the auditorium's parking lot is used for tailgating for Youngstown State University football fans.
The facility has a 2,500-seat auditorium and stage with nearly perfect natural acoustics, a 9,700-square-foot ballroom and a 3,000-square-foot Anne Christman memorial recital room and garden area.
The auditorium's two huge lobbies also have been used for meetings and wedding receptions.
Besides the auditorium's staff, the Monday Musical Club, Opera Western Reserve, the Musicians' Union, Stambaugh Pillars (the fund-raising branch of the Stambaugh Association), Stambaugh Chorus and the Stambaugh Youth Concert Band call the auditorium home.
Phil Cannatti is executive director of Stambaugh Auditorium.