Ohio alters death-penalty dosage; Biros execution could be expedited
There is no other state that uses a one-drug protocol.
Mary Jane Heiss statement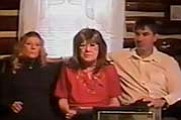 Video
Mary Jane Heiss, Tami Engstrom's mother, was too ill to make the trip to Columbus Monday but gave a taped statement that was played for the board. She plans to be on hand for Biros' execution.
Biros Clemency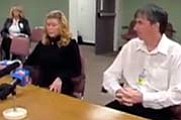 Video
Post-clemency comments to the press by Debi Heiss and Tommy Heiss, sister and brother of Tami Engstrom, Biros' murder victim.

Photo
By Marc Kovac
COLUMBUS — The state will use a new one-drug protocol when executing prisoners, with a backup plan in place for those with problematic vein access.
The change, announced by Department of Rehabilitation and Correction Director Terry Collins on Friday, comes in response to the failed execution of Romell Broom in September.
Collins said he has directed prison staff to implement the changes by the end of the month, in time for the execution of Kenneth Biros in early December, should the court stay in that case be lifted by that time.
Trumbull County Prosecutor Dennis Watkins and the sister of murder victim Tami Engstrom were both pleased with the new death-penalty protocol. Watkins said the protocol is what defense attorneys for death-row inmates have sought as a more humane method of execution.
It should render moot any further discussion of problems with the state's execution method, Watkins said, and allow the execution of Kenneth Biros, 51, of Brookfield to proceed. Biros killed and mutilited Engstrom of Hubbard in 1991.
Federal legal challenges by Biros and others are "a moot issue since the new protocol is what the defense experts said should be done," Watkins said. "There is no reason the federal courts should block [Biros'] execution."
One thing that does have to happen first, however, is for Gov. Ted Strickland to deny clemency to Biros, following Biros' most recent clemency hearing on Monday, Watkins noted.
Engstrom's sister, Debi Heiss, said Friday that learning that the state has a new execution method gives the Heiss family hope that Biros will be dead soon.
"My family would like to wish Kenny Biros a happy Friday the 13th," she said. "We have a good feeling the stay [of execution] will be lifted and [Biros'] existence will no longer be."
But additional legal actions could tie up executions in Ohio for months to come.
Ohio Public Defender Tim Young voiced support for the move but said the new protocol does not answer concerns about vein access during executions. "Mr. Broom's failed execution was not due to the drugs, but to the failure to properly place an IV," he said. "The new process announced this afternoon works on one problem, but leaves the other untouched. ... Because the new protocol announced today has not corrected the cause of the botched executions Ohio has experienced, I do expect litigation to continue."
There is no other state that uses a one-drug protocol, nor is there another state that uses an intramuscular protocol, Collins told reporters. "... [But] I'm confident that the use of the one-drug protocol will legally [meet] the obligation that we're required to in this state."
Ohio has executed 32 inmates since 1999. All were put to death using a three-drug combination — one drug making the inmate unconscious, followed by a muscle relaxer and a final solution that stopped the heart.
The new process will involve only one drug, the sedative used to render inmates unconscious, but in a larger, lethal dose.
The drug will still be administered intravenously.
Staff writer Ed Runyan contributed to this report.