Mooney leaves little doubt
Mooney VS Hubbard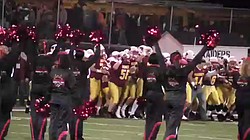 Video
Mooney defeats Hubbard 55-0 November 13, 2009
Mooney vs Hubbard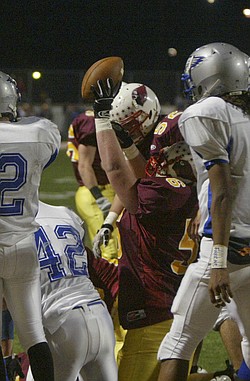 Gallery
The Cardinals capitalized on Hubbard's mistakes for a 55-0 victory on Friday.
By JOHN KOVACH
Vindicator sports staff
WARREN — Could it be that Cardinal Mooney High football team, as good as it is already, is getting even better and better each game that they play?
Well, that appears to be the case after the Cardinals took apart Hubbard Friday night, 55-0, in a Division III, Region 9 semifinal game at Mollenkopf Stadium.
Eight players got into the scoring act for Mooney, led by speedster Braylon Heard with two touchdowns, while quarterback Alex Zordich threw a pair of scoring passes, as the Cardinals streaked to a 49-0 halftime lead and then coasted the distance behind subs.
Mooney (12-0) advanced to play Poland (10-2) in a regional final next Friday at a site and time to be determined Sunday. Poland moved on with a 10-7 win over Akron Hoban.
The West Virginia-bound Heard, who returned to the lineup after an injury, scored the first TD of the game on an 11-yard run, then later caught a 62-yard scoring pass from Zordich. And Zordich also hit John Stoops with a 19-yard TD strike.
Heard rushed for 75 yards in 10 carries while Zordich was 3-for-3 passing for 110 yards.
Meanwhile, the Cardinals' rugged defense held Hubbard to only 105 total yards and five first downs — and the Eagles never threatened seriously to score.
Mooney coach P.J. Fecko, whose Cardinals capitalized on three turnovers and a bad punt to spark a 36-point second quarter, said that his team was humming on both sides of the ball.
"We jumped on the momentum fast. We set it going and kept it up, and in the process we were getting good field position and the momentum," said Fecko, lauding his offense and defense.
"We were moving the ball real well and established the lines of scrimmage on both sides of the ball."
And, "The defense did an excellent job. [Hubbard was] averaging 35 points and we shut them down and got a good push up front.
"I really thought we did a good job of pressuring in two phases — offense and defense."
Coach Brian Hoffman of Hubbard (10-2) knew that his team was outmatched, but said the Eagles gave it their best shot.
"We knew coming in that it was going to be a tough game. They are the No. 4 team in the nation. The kids prepared well but we never could get started. They have a tough kicking game and running game," said Hoffman."They are a really good football team and are well-coached."
Hoffman said his team "had a slow start and then had three turnovers and a bad punt and those didn't help. They had a short field in the first half."
But he said he is happy for what his team has accomplished.
"But we had a good season — 10 wins, we made it to the second round of the playoffs and we won a league championship."
Quarterback Matt Shelton led Hubbard's offense with 12-for-20 passing for 66 yards with one interception, while Dan Duvall caught six of the throws for 48 yards.
But Andre Givens' 24 yards rushing in 11 carries was the best that the Eagles could muster on the ground.
Heard's first TD from the 11 capped a seven-play, 85-yard drive, while Karrington Griffin also scored for Mooney in the first period on a 1-yard dash that finished an eight-play, 40-yard march.
Then came the turnovers in the second quarter. Chris DeChellis recovered a Hubbard fumble at the Eagles' 25, and three plays later Zordich connected to John Stoops from the 19.
Then after a poor Hubbard punt, Mooney got the ball at the Eagles' 25 and Ray Vinopal scored four plays later from the 2-yard line.
Shortly after, on the first play following a punt, Zordich found Heard on the 62-yard scoring toss, after which Nick Hargate returned a pass interception 32 yards to another Mooney score.
In addition, Griffin intercepted a pass at the Hubbard 42 and returned the ball to the 21, setting up Charlie Brown's 8-yard scoring dash three plays later to complete the TD-scoring domination in the first half.
The Cardinals got their final TD in the third period when Carmen Leonelli scored from the 6-yard line to round out a four-play, 82-yard advance,
Leonelli finished with 53 yards rushing in three carries.
A.J. Fox kicked five extra points while Joe Stoops ran for a conversion.
Fecko admitted his bench is deep, especially at running back.
"We have played five different running backs in crucial games and they have done well. They all are interchangable," he said.
kovach@vindy.com