Tigers face Arrows' aerial attack
Poland vs Howland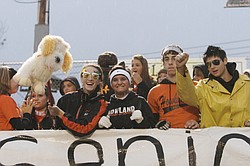 Gallery
Poland vs Howland Oct 9, 2009
Canfield vs Howland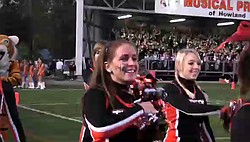 Video
Howland defeats Canfield 24-14 Spetember 18, 2009 at Howland.
By Tom Williams
HOWLAND — In his three decades plus as a high school football coach, Howland's Dick Angle has never led a team on to the field at Canton Central Catholic's Lowell Klinefelter Field.
But he still remembers what happened the time he played there.
"I was a sophomore guard and [future Minnesota Vikings Hall of Famer] Alan Page ripped my head off," Angle said. "It prompted me to ask, 'why are we running at him?'"
Tonight at 7:30, Angle's 10-1 Tigers, co-champions of the All-American Conference Red Tier, will play Ashland (10-1) in a Division II Regional 5 semifinal at Canton Central Catholic.
Howland advanced by defeating Medina Highland, 28-21, while Ashland cruised past West Geauga, 28-7.
The Tigers are seeded second in the region while the Arrows are third. The winner will meet tonight's Canfield-Mentor Lake Catholic winner on Nov. 20.
Angle says the Arrows' and Tigers' offenses couldn't be much different.
"They are an outstanding team," said Angle of the Arrows who jumped out to a 21-0 lead in the second quarter in their playoff opener. "They bring a completely different [look from us] to the table.
"They throw the ball 90 percent of the time, they are totally committed to the pass. They have several 6-foot-1 wide receivers who appear to be clones.
"And they protect their quarterback [Marcus Fuller] with five huge linemen," Angle said.
Ashland coach Scott Valentine said Fuller has passed for more than 2,300 yards, with 21 touchdowns and five interceptions.
"Defensively, they bring a lot of different blitzes," Valentine said. "They run to the ball, they're quick and fast and they're good tacklers. They're a very good team."
Despite losing many starters from the 2008 team to graduation, the Tigers won a part of their third straight crown.
"We started the season with a very young offensive line," said Angle, noting that Anthony Stanko was the only full-time starter back. "We've gotten better every week."
The Tigers' offense revolves around the legs of tailback Mike Mangiarelli who rushed for 941 yards on 112 carries.
Howland's only loss was to Poland (17-0) in Week 7. Howland, Poland and Canfield shared the league title.
The Arrows' loss came in Week 2 against Dover (44-21), a team Canfield defeated (22-21 in overtime) in Week 3.
"Defensively, we feel that our kids play aggressive defense and hopefully we're good tacklers on a weekly basis," Valentine said. "Offensively, we play out of the no-back spread and use a lot of different receivers."
williams@vindy.com