Boardman students have a reason to smile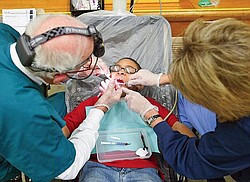 Photo
DOUBLE CLEANED: Justin Peters, a third-grader at Market Street Elementary School in Boardman, has his teeth cleaned and checked by Dr. Ronald Bell and Jan Madigan. The dentist and hygienist are part of a mobile-dentist program that tours Northeast Ohio schools. The program was in the Boardman school district Thursday.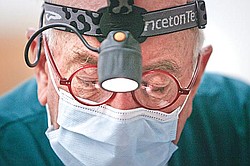 Photo
MOBILE DENTIST: Dr. Bell wore his head lamp as he worked on the elementary students.
A mobile dentistry crew provided preventive care for elementary students.
By Rick Rouan
BOARDMAN— Watching her fellow second-graders in the dentist chairs, Luna Hahn cowered behind a waiting chair with wide eyes.
Then it was her turn.
"It wasn't that bad," Luna said as she emerged, smiling and rubbing her teeth.
About 40 students from Market Street Elementary School in Boardman received X-rays, dental assessments, teeth cleanings, sealants and fluoride from the Michigan-based Smile Programs mobile dentists.
"We try to indoctrinate these kids and teach that dentists are really good people," said Ronald Bell, a retired oral surgeon and the dentist on the three- person crew.
The Northeast Ohio mobile dentist crew consists of Dr. Bell and two dental hygienists. They traveled Wednesday from Cleveland and Hiram to Boardman to clean children's teeth.
The program has teams in 14 states and focuses on preventive care, said Sue Jones, the team leader and a dental hygienist.
For students who don't have insurance or Medicaid coverage, the program will provide grants to pay for the treatment. About three students received grants yesterday, said Tevis Dimascio, the school nurse.
"Our whole thing here is prevention," Dr. Bell said. "Hopefully, when they leave us, they go to their own dentist."
They set up their two dentist chairs in the cafeteria of the elementary school as groups of students filed in for their appointments.
Children bring in a medical form and permission slip from home that the mobile dentists keep on file. Some of the kids, such as Luna, hid behind chairs while others said that they had seen the dentist before and were not scared.
"Kids are a challenge," said Dr. Bell, who wears bright bicycling shoes he bought in Russia and red circular glasses that make the kids laugh and put them at ease.
"I haven't even gotten to the dentist yet, and I'm already scared," said Lauren Hurd, a second- grader. "I don't like the toothpaste they have."
Elementary school children talked about their fears of the dentist and about the taste of fluoride and toothpaste before getting to the big chairs. But, in the end, most emerged smiling to show off their cleaned teeth and to receive a sticker and tooth brush.
"I can't get the yucky feeling out," said Joshua Devlin, a second-grader.
Many of the children have seen the mobile dentist before, Jones said, adding that it is a convenience for parents who cannot take their children to the dentist because of work or other commitments.
Children who otherwise would not see the dentist have that opportunity through the program, which will visit the school again in six months, Dimascio said.
"It's a nice vehicle they provide," she said, adding that the program has been coming to the school for about six years.
The traveling program has gone to the Boardman and Youngstown schools along with some of the local charter schools, said Jan Madigan, a dental hygienist with the group.
"You have to be a morning person and like kids," said Madigan, who traveled from Cleveland on Wednesday. "Once I got in with kids, I didn't want to go back to adults."
rrouan@vindy.com