Veterans Day 2009: Serving with HONOR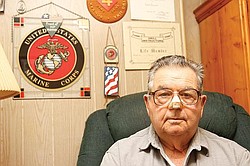 Photo
TWO PURPLE HEARTS: Glenn Buzzard of Hubbard was wounded twice during World War II, the first on Tinian Island and the second on Iwo Jima. He was a member of D Company, 1st Battalion, 24th Regiment, 4th Marine Division all through the war.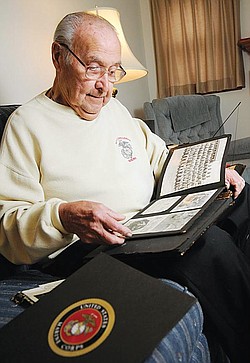 Photo
REMEMBERING: Paul Sovik of Youngstown looks through some old pictures that bring back memories of the battles he fought in during World War II in the Pacific. He enlisted in the Marine Corps on Dec. 8, 1941, the day after the Japanese attack on Pearl Harbor.
Two Valley Marines, both Purple Heart recipients, recall the World War II horror of fighting in the Pacific Theater.
By WILLIAM K. ALCORN
VINDICATOR STAFF WRITER
The best part of the war was the friends you made. The worst part was the friends you lost, say two World War II Marines.
"That's why Veterans Day is so important. We can't forget those guys who gave up their time and their lives in their youth so we can have the freedoms we have today," said Paul Sovik.
Sovik, of Youngstown, and Glenn Buzzard of Hubbard, both Purple Heart recipients, fought the Japanese in World War II in the Pacific Theater in some of the fiercest and most deadly battles.
Buzzard enlisted in the Marine Corps on Aug. 19, 1942, in Pittsburgh at age 16 and went straight from working in a pottery plant in Chester, W.Va., to boot camp at Parris Island, S.C.
"When I enlisted, they told me to bring signatures from my father and the police chief of Chester. Right before the end of boot camp, they asked me if I wanted out of the Marine Corps. I guess they had found out about my age. I said no," Buzzard said.
He trained for about a year at Camp Pendleton, Calif., and went from there to Japanese territory and the island of Roi-Namur as a machine gunner with D Company, 1st Battalion, 24th Regiment, 4th Marine Division, the unit with which he stayed throughout the war.
"We didn't have that many casualties there," said Buzzard.
But that was to change.
After going to Hawaii for more training and to build up strength, his unit took part in the invasion of Saipan.
"A lot of our replacements came straight from boot camp just a few weeks out of high school. It was pretty tough on them. They didn't have the training and had to learn on the job," Buzzard said.
Saipan was terrible, he recalled: There was a lot of collateral damage.
Buzzard said he witnessed the horror that was Marpi Point, located at the northern tip of Saipan. "Mothers threw their babies onto the coral below and then jumped themselves. It was a terrible thing to see," he said.
Buzzard got his first Purple Heart from shrapnel wounds suffered on Saipan during a mortar attack. He was moved to the beach for treatment, but went back to the front line as quickly as possible.
"I felt safer on the line than on the beach. The Japanese had their weapons zeroed in on the beach. That was the worst place to be. Sometimes it took a long time to get the wounded to the hospital ship," he said.
Buzzard, who also participated in the attack on Tinian, received his second Purple Heart for shrapnel wounds suffered during the during the battle for Iwo Jima, which he said was "by far the worst" battle in terms of American casualties.
"It was two armies face to face," he said.
He said a shell exploded near him, and about 10 or 12 people just disappeared. He was injured on his left side and "completely blown unconscious" by the concussion of the blast. He was transferred to a hospital ship for treatment. Buzzard was discharged in November 1945 as a corporal.
Sovik went to the Mahoning County Courthouse to enlist on Dec. 8, 1941, the day after the Japanese attack on Pearl Harbor. "I was mad at the Japanese," he said.
He fought on three Pacific islands, including Guadalcanal, which he described as a "cupcake" compared to Peleliu, where he saw his last combat in the Pacific and where he was wounded.
On the 'Canal, it was survival of the fittest, he said.
"You had to live with the elements and the centipedes and millipedes, all kinds of rodents and flies and mosquitoes by the millions, and crazy birds, one of which sounded like a shell coming in. I got malaria five times.
"We ate Japanese rice with worms in it, but they were cooked. You just didn't look down into your mess kit.
"One night we heard we were getting goodies for supper. Besides our scoop of Japanese rice and Spam, we each got one-fourth of a canned peach. That was our goodies.
"After the war, I swore I'd never be hungry again. I had a wonderful wife who was a wonderful baker and cook. But for four people, I kept two refrigerators and two freezers full of food all the time," he said.
Sovik also saw combat at Cape Glouscester on New Britain, landing on Christmas Day 1943: "We lost two captains on the first day."
And then came Peleliu in September 1944. "You didn't take your finger off the trigger. It was constant," he said.
In his first two invasions, Sovik was part of a mortar platoon. On Peleliu, his captain made him a rifle platoon sergeant.
He responded that he didn't know anything about being a rifle platoon sergeant, but the captain just pointed to the bars indicating his superior rank.
"You had to do what you were told. I just did my job as a staff sergeant. Some things were brilliant, and there were times you made mistakes. You just have to live with it. It is still in your mind 60 years later," Sovik said.
When they finally captured a heavily fortified place called The Point, out of the 200 men in his unit who landed, 18 were left, Sovik said. He was a member of K Company, 3rd Battalion, 1st Marine Division.
After The Point was captured, Sovik and another man were in a foxhole when a mortar shell exploded in front of them.
"It blew us out of the hole, and I got a lot of little holes, and my wrist was dislocated and at a 90-degree angle. Some of the shrapnel is still in there," he said.
Buzzard and Sovik did not know each other during the war, even though they fought in the same part of the world at about the same time. They met and became friends years later as members of the Tri-State Detachment of the Marine Corps League.
"World War II guys, we're interested in each other. We just like to sit in a room and BS," Buzzard said.
"We had a job to do, and we did it. We relied on each other because that's all we had to rely on," he said.
Sovik, who served as a drill instructor at Parris Island in 1945, said: "I was never a hero."
alcorn@vindy.com
SEE ALSO: YSU honors former students killed in wars, AREA VETERANS DAY EVENTS and Businesses closed today.