Family again asks for death
Mary Jane Heiss statement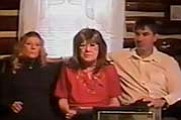 Video
Mary Jane Heiss, Tami Engstrom's mother, was too ill to make the trip to Columbus Monday but gave a taped statement that was played for the board. She plans to be on hand for Biros' execution.
Biros Clemency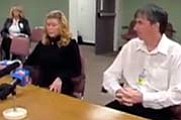 Video
Post-clemency comments to the press by Debi Heiss and Tommy Heiss, sister and brother of Tami Engstrom, Biros' murder victim.
By Marc Kovac
The Trumbull County Prosecutor said Kenneth Biros still blames the victim for the crime.
COLUMBUS — Family members of a Trumbull County woman murdered and dismembered have again asked the state parole board to allow her killer to be executed.
In emotional testimony in Columbus Monday, Tami Engstrom's sister, brother and mother-in-law said Kenneth Biros should finally face the death penalty issued by a jury in the case 18 years ago.
"It appalls me, and I think it is outrageous, absurd and a slap in the face of our judicial system that a brutalistic monster such as Kenneth Biros has the power to undermine our justice system and still breathe and exist on the face of this earth," said Debi Heiss, sister of the victim. "The system keeps bailing out Kenneth Biros and denying justice to my family. Where is the humanity for the victim's family?"
But legal counsel for Biros argued that the board should recommend clemency in this case, given the inmate's good behavior behind bars, his remorse for his actions and the state's botched execution of an inmate earlier this year.
"Ken killed this young woman," said John Parker, Biros' legal counsel. "It was totally unnecessary. It was tragic in every sense of the word. It was heinous. It was unforgivable. But we're asking this board and the governor to exercise mercy."
Monday's hearing included emotional testimony and images of the crime. It was the second time the parole board heard the clemency request from Biros. In early 2007, members recommended against a commutation, and Gov. Ted Strickland denied the clemency request.
Parole board chairwoman Cynthia B. Mausser said the new clemency recommendation will be forwarded to the governor's office next week and released for public review Nov. 17. Strickland will have final say in the matter.
Biros, 51, was convicted in the February 1991 murder of Engstrom, a 22-year-old woman whom he offered to drive home from a Masury bar. The victim was murdered, mutilated and dismembered, with parts of her body scattered in two Pennsylvania counties.
Biros was actually transported to the death house at the Ohio Correctional Facility in Lucasville at that time, but last-minute court actions delayed his execution. He is scheduled to make the trip again next month, though a stay issued by a federal court will likely mean another delay.
Legal counsel for Biros told the board Monday that he is sorry and remorseful for Engstrom's death and the pain and suffering he has caused the victim's family.
"Mr. Biros once again wishes to extend his apologies to them," Parker said. "... He has expressed that in every way he can."
Counsel also presented letters from Biros' family members and from a minister and counselor, who said Biros has displayed "sincere spiritual growth." They pointed out that Biros' first trip to the death house was emotionally and physically exhausting for him and his family. And Parker said Biros has been a model inmate.
"I think it's fair to say that Ken is sincerely and truly growing spiritually in prison," he said.
Timothy Sweeney, also representing Biros, and Parker said the board should grant mercy or at least grant a reprieve, given the state's failed execution of Romell Broom in September.
The parole board should not recommend death sentences be carried out until the state has "fixed a broken system. ... This board has the power to make this statement," Sweeney said.
But Trumbull County Prosecutor Dennis Watkins said Biros still blames the victim for the crime and is "taking less responsibility than ever before" for the murder. He added that Biros showed no mercy to his victim, subjecting Engstrom to 91 pre-mortem injuries before sexually abusing and dismembering her body.
"This man has not taken responsibility for what he has done," Watkins said, adding later, "There is no way to express how evil and how unrelenting the destruction of this poor little girl was done by this defendant."
Monday's hearing included statements by several of Engstrom's family members, including her sister; her mother-in-law, Pat Engstrom; and her brother, Tommy Heiss.
Debi Heiss described the pain and suffering her family has faced since her sister's murder nearly two decades ago.
"How does he file a lawsuit from behind bars at the citizens expense and cry about some pain being inflicted on him from a needle put in his arm to put him to sleep," Debi Heiss asked. "He is a coward."
Tommy Heiss, added, "[Biros is] an animal. He deserves to die. If he would choke to death, that would be one breath too much that that animal took."
Mary Jane Heiss, Engstrom's mother, was too ill to make the trip to Columbus Monday but gave a taped statement that was played for the board. She plans to be on hand for Biros' execution.
"My daughter was taken from me in a way that is beyond human comprehension," she said. "She was tortured and brutally murdered. It was so horrific. ... She was such a loving, giving, caring person who had so much to live for. She did not deserve for this to happen."
She added, "I want to see justice carried out."