Hopewell-Loudon quiets McDonald
McDonald vs Hopewell-Loudon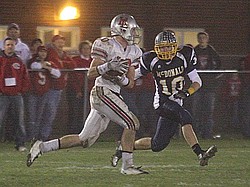 Gallery
Vindicator staff report
McDONALD — Prior to McDonald's Div. VI, Region 21 first-round playoff game against Bascom Hopewell-Loudon Saturday night, the neighboring homes and streets bordering McDonald's stadium were quite lively with music and front yard activity.
Following McDonald's 28-24 loss, those same areas were quite somber.
Blame Hopewell-Loudon — the No. 8-seeded Chieftains (9-2) who traveled 162 miles to play the spoiler role over the No. 1 seed.
"When you get up 11 points, you've got to hold the lead, but we didn't do that," McDonald coach Dan Williams said of 15 straight points that Hopewell-Loudon scored in the fourth quarter to eliminate the Blue Devils (10-1).
Even after McDonald lost its 24-13 lead, the Blue Devils were still up by three: 24-21. But a fumble on the ensuing kickoff gave the visitors control.
"We should have been able to keep the ball and ground it out with six minutes left in the game," Williams said. "All we needed to do was pick up a couple first downs."
Of the game's three fumbles and three interceptions, Hopewell-Loudon's Miles Chapman had one of each.
The 6-0, 180 wide receiver/outside linebacker also caught 12 passes for 126 yards from Ethan Fuller, who was 16 of 27 for 206 yards with one interception.
Matt Brickner also had three receptions for 72 yards, including a 28-yard over-the-head catch on a crucial fourth down midway through the third quarter.
"We let them out of that fourth-and-15 and also gave up too many third-and-longs," Williams said. "There were five or six of them [third-and-longs] where we just let them off the hook."
Williams addressed the Chieftains' passing game, especially the dangerous Fuller-Chapman tandem:
"Although we stopped their run, we didn't expect them to throw the ball around like they did. Once they started, we had to make a couple adjustments. I thought we did a better job in the second half, but they had a big play early in the second half," Williams said of a 27-yard completion to Chapman that gave Hopewell-Loudon the ball at McDonald's 8 for first-and-goal that set up a touchdown that put the visitors up, 13-10.
Brickner also had 14 rushes for 49 yards, while Aaron Kapelka added 58 yards on 12 carries and James Roush 18 yards on five attempts.
"We've got a great tradition," said Hopewell-Loudon coach Brian Colatruglio. "I said all week, I don't think we're the typical No. 8 seed. There aren't too many No. 8s in the state that would have overcome what we overcame tonight. We had so many opportunities to put our head down and go away. I think a lot of teams — and no offense [to McDonald] — dominate their league and the teams they play know they're supposed to get beat. But our kids didn't know that."
Colatruglio said that beating an excellent McDonald team after traveling on a bus for three hours was a tribute to his kids.
"It's unfortunate it had to happen in the first round because these weren't two first-round teams," he said. "But that's the way this region is."
Colatruglio indicated that Saturday's game was the most the Chieftains threw all season.
"We've struggled in the passing game the last half of the season and we've been dominating people running, but McDonald was so good inside that they forced us to throw the ball," he said. "Our quarterback [Fuller] and receivers [Chapman, Brickner] really responded tonight."
Colatruglio said the Chieftains weren't communicating up front on blocking schemes in the first half, but then regrouped in the second half and started executing a little better.
When Hopewell-Loudon faced fourth-and-15 midway through the third, he was thinking about punting.
"But we're down two scores [24-13] and we [defense] hadn't stopped them all that much, but, again, it's two seniors — the quarterback [Fuller] making a perfect throw and the receiver [Brickner] making a great catch," he said. "It's two seniors not wanting their season to end."
McDonald reached Hopewell-Loudon's 10 with two minutes left, but an illegal procedure penalty turned a fourth-and-5 play into a fourth-and-10.