Girard issues a Royal beating
By JOHN KOVACH
VINDICATOR SPORTS STAFF
McDonald vs Hopewell-Loudon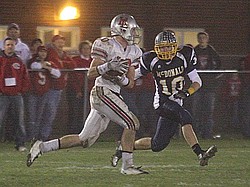 Gallery
GIRARD — The very young Cuyahoga Valley Christian Academy football team was no match for multi-talented Girard High Saturday night in a Division IV regional quarterfinal game at Arrowhead Stadium.
The Indians, sporting many skilled players and few weak links, dominated the Royals in every facet of play, from the passing and rushing games to the offensive and defensive lines, and rolled to a 28-0 halftime lead.
Then they finished off the Royals with a 42-7 victory to stay undefeated and advance into a regional semifinal.
Girard (11-0) will play Peninsula Woodridge (9-2) next week at a site to be determined today. Woodridge advanced with a 49-28 win over Martins Ferry Saturday night in another quarterfinal.
Quarterback Adam Charles got off to a strong start, throwing a touchdown pass to Dominic Morgan covering 16 yards and running for a 1-yard score to cap a 66-yard march. He eventually completed 16 of 25 passes for 119 yards and one interception.
Charles also threw a conversion pass to Michael Floravit and contributed 79 yards rushing in seven carries.
Morgan's TD catch capped another 66-yard drive and he finished with nine receptions for 97 yards.
In addition, Tallen Birmingham scored a pair of TDs from the 2- and 1-yard lines, capping drives of 66 and 59 yards, respectively; and he contributed 43 yards rushing in 13 carries.
But speedy Ahmad Eggleston was Girard's top rusher with 88 yards in eight carries, including a 26-yard scoring dash to cap a 76-yard drive.
Backup quarterback Dan Graziano also scored for Girard on a 35-yard dash after temporarily replacing Charles, who was injured on a previous play.
Placekicker David Meigs kicked four extra points.
Coach Ray Carroscia of CVCA (7-4) had high praise for Girard, which enjoyed a 23-10 first down advantage and dominated the rushing (242-116) and passing (212-32) yards.
"They made a lot of good plays. They are a good team. We had trouble matching up with them," said Carroscia. "We were taking in a young team. We start four freshmen and four sophomores."
Carroscia said Girard had strong passing and rushing attacks, and easily made the transition from one to the other.
"They passed well, and when we solved that, they ran the ball real well," he said. "We had trouble blocking in the first half. They are quick up front. They are a good defensive team."
Girard coach Bud McSuley said his offensive line came through to give the offense a chance to pass and then run when CVCA adjusted to the aerial attack.
"Our offensive and defensive lines controlled the line of scrimmage," he said. "The offensive line gave us the time to pass.
"Our defensive front came off the ball. We tackled well. When we hit them they went down."
Charles connected often in the first half, but when he began to be neutralized somewhat by the CVCA secondary, the Indians went to their running attack and were equally as effective.
"They were only rushing three and giving us the perimeter stuff and we took advantage," said McSuley. "We were mixing it up on offense. We had some good seams up the middle and some open passing."
McSuley also called Eggleston a potential star.
"He is a young guy and he can really move and he ran real hard. He is only a sophomore and can be a good one," said McSuley, who also commended Morgan and Graziano and offensive lineman Mike Stacchiotti, who symbolized the Indians' strong blocking performance.
"The whole offensive line played well," he said.
Graziano also had four pass receptions for 61 yards.
CVCA, trailing 42-0, finally managed to score with 3:30 left in the game when freshman quarterback Antonio Carroscia hit Arthur Dunkley on an 8-yard TD strike, and Jared Friszman kicked the extra point, to cap a 73-yard march. Alex Utley rushed for a game-high 114 yards in 25 carries.
kovach@vindy.com