VIDEO || Mooney scores early, often, in first-round victory
The Cardinals beat Field, 42-14, to advance in a game at Stambaugh Stadium.
By JOHN KOVACH
Vindicator Sports staff
Field vs Mooney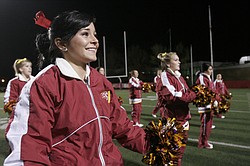 Gallery
Field vs Mooney November 6, 2009
Field vs Mooney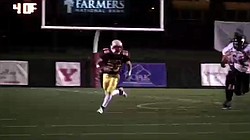 Video
Field vs Mooney November 6, 2009
YOUNGSTOWN — The Field High football team's strategy against heavily-favored and undefeated Cardinal Mooney on Friday night was to try to keep the powerful Cardinals' offense off the field as much as possible.
But the Falcons' planned tactics backfired right from the beginning against the talented and opportunistic Cardinals' defense, in a Division III regional quarterfinal game at Stambaugh Stadium.
Mooney's defense forced four turnovers in Field's first six offensive series in the first half — three interceptions and one fumble recovery — to set up four touchdowns, and the Cardinals added two more TDs following punts to score on all six possessions and roll to a 42-0 halftime advantage.
Then with the Mooney subs getting an opportunity to play the second half, the Cardinals finished off the embattled Field team, 42-14, to advance to a regional semifinal next week.
Karrington Griffin, who came through with two of the interceptions, scored two of Mooney's TDs's on runs of 4 yards and 1 yard, while Ray Vinopal streaked 55 yards to another score.
In addition, Mark Brandenstein and quarterback Alex Zordich both tallied on 1-yard dashes, and backup quarterback Ed Reese raced 11 yards to the final TD as the Cardinals sent in the subs for their final scoring drive.
A.J. Fox kicked all seven extra points.
The other two turnovers were supplied by John Stoops' interception and Pat DePizzo's fumble recovery.
Junior running back Carmen Leonelli rushed for 110 yards in eight carries for Mooney, which was without injured senior running back Braylon Heard.
"They have a phenomenal team and we tried to keep them off the field [on offense] but our turnovers prevented that from happening," said Field (8-3) coach Patrick Youel, who knew what his team had to do to have even a remote chance of winning.
"We knew coming in that we would have to keep their offense off the field as much as possible."
But, "We turned it over and gave them a short field and they capitalized. The turnovers put the defense in a hole."
Coach P.J. Fecko of Mooney agreed.
"Our defense did a good job of giving us good field position early in the game," said Fecko. And, "We got some quick scores. We contolled the game early."
In fact, "Right from the opening kickoff, we dominated the game. We were focused and determined."
Every time Mooney's defense delivered the ball, the offense ran at will and encountered little resistance until Field was able to score a pair of TDs against the Cardinals' subs in the second half.
Quarterback Jay Wilson fired a 30-yard scoring pass to Aaron Polasky in the third quarter, and Wilson rambled 23 yards to another TD in the fourth period. Polasky added both placements.
Wilson was 7-for-17 passing for 78 yards and three interceptions.
The tone for the first half was set right after the opening kickoff when Field, after two penalties, had its back to the wall at its 4-yard line.
On the first play, Griffin intercepted a wobbly pass at the Field 24. Two plays later, Zordich ran to the 5 and then Griffin scored.
On Field's next offensive series, DePizzo recovered a fumble at the Field 33, and then Brandenstein raced 32 yards to the 1 and also added the final yard for Mooney's second TD.
And on Field's next series, Griffin struck again with an interception at the Mooney 28, and the Cardinals went the 72 yards in seven plays to Griffin's 1-yard plunge.
Then Mooney took a punt at its 30, and on the fourth play Vinopal raced 55 yards to the Cardinals' fourth score.
And on Field's next possession, Stoops intercepted a pass on a fake field punt and returned the ball to the Falcons' 32. Griffin then scored on the next play but it was nullified by a penalty back to the 38 .
However, Zordich then reeled to the 21 and two plays later he ran to the 1 and then scored.
kovach@vindy.com