Williams chosen a Public Official of the Year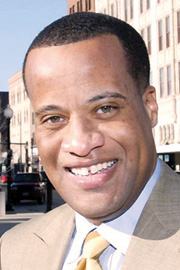 Photo
Youngstown Mayor Jay Williams
The magazine praises the Youngstown mayor for being the driving force behind the city's development effort.
YOUNGSTOWN — A magazine chose Mayor Jay Williams as one of its eight 2009 Public Officials of the Year for his developing of "an aggressive plan to create a Youngstown that will be smaller, but better."
"I am truly honored to have our work here in Youngstown recognized by Governing," Williams said. "This award reflects not just my efforts as mayor, but rather the collective efforts and accomplishments of the many people working to transform the city of Youngstown and the Mahoning Valley. It is an honor to work with and among such talented and determined individuals."
This is the magazine's 16th annual awards program that recognizes leaders from state, city and county government who made a notable positive impact on their community or state.
The profile article, "Urban Realist," written by Alan Greenblatt, praises Williams for being the driving force behind the Youngstown 2010 development plan, approved five years ago as an effort to accept its declining population and work to properly redevelop neighborhoods.
"No one in America has more forcefully articulated the notion that for economically devastated cities, a leaner future still can be a healthy future," the article reads.
The 2010 plan has met with mixed results.
The city has demolished hundreds of vacant structures and has helped revitalize its downtown.
But Youngstown has also been hit hard by the national economic recession. It's seen a sharp decline in its corporate-property and worker income-tax revenue and is expected to end the year with a deficit of about $1 million, even after laying off 18 employees.
Williams has traveled throughout the United States and made recent visits to Thunder Bay, Ontario, Canada, and Berlin, Germany, to speak about Youngstown's efforts.
Williams was honored in November 2007 by The John F. Kennedy Library Foundation and Harvard's Institute of Politics with its New Frontier Award, given annually to an American under age 40 who is changing his/her community through public service.
Governing selected the winners from nominations submitted by readers, experts in the public and private sectors, and the magazine's editorial staff. Among the qualities are leadership, courage, innovation, creativity and good management.
Other winners this year include: Maryland Gov. Martin O'Malley, Washington Secretary of State Sam Reed, and Minnesota state Rep. Phyllis Kahn.
Governing is a magazine that focuses on management, policy and politics in state and local government.
"It is both momentous and greatly appreciated that Governing has acknowledged the remarkable things that are being achieved in our city," Williams said. "I hope that this recognition serves as a renewed source of inspiration for all of us to continue our challenging yet fulfilling work for many years to come."
skolnick@vindy.com