Class of '09: Ursuline, Mooney grads turn tassles ||VIDEOS
By DAVID SKOLNICK
VINDICATOR STAFF WRITER
Ursuline 2009 Commencement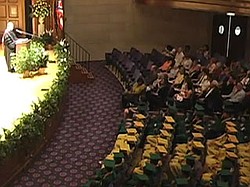 Video
YOUNGSTOWN — The Rev. Joseph A. Fata told the 2009 class of Ursuline High School that they "are not graduating into easy times."
The world's woes are a result of "unbridled greed, self-centered irresponsibility, pursuit of power and lack of spiritual depth," Father Fata, pastor of St. Luke Catholic Church in Boardman and a 1960 Ursuline graduate, told the students Saturday at their commencement.
While the students "didn't cause what we lament," he told them they "have the power to fix it."
In his commencement address to the 109 graduates at Stambaugh Auditorium, Father Fata said: "Your time at Ursuline has helped you set your moral compass to reveal that the cult of celebrity that drives most of our country is a sham."
He added that the students can make a difference.
"You can set irresponsibility aside and live as upright citizens working for the common good," Father Fata said. "You can seek to live a life with compassion rather than the pursuit of raw power itself. You are armed with a spirituality that can face any challenge."
Patricia Fleming, Ursuline's principal, said the graduates were challenged and sometimes chastised at the school.
"All of those lessons will serve you well," she said.
For Shelby Rohan of Boardman, Saturday's graduation ceremony was "bittersweet."
"It was really sad," she said after the event. "People were crying and that makes me cry. But I'm excited, and I'm so nervous."
Rohan will attend Kent State University in the fall, majoring in literature. She said she might want to get into the publishing industry but isn't sure yet.
Mark Burley of Austintown said the graduation ceremony "marks a transition in my life. It's a new direction for me."
Burley will attend Ohio University, majoring in business.
As for what he'll do after college, he said, "Get a job, hopefully."
Evan Smith of Berlin Center said he's "just glad to finally graduate and to see all my friends graduate. It's definitely a special moment, and Ursuline is such a special place."
Smith will major in athletic training at the University of Akron in the fall.
He's undecided what he'll do after graduating college.
"Maybe I'll go to grad school or go out into the real world and excel, working with professional [sports] teams, or go into physical therapy."
The school's co-valedictorians were Erin Bouquet, who is attending the University of Notre Dame, majoring in biology; and Patrick Kreiger, who will major in international finance at the University of Pennsylvania. The salutatorian is ElizaBeth Clowes, who will study biological science at Ohio University.
skolnick@vindy.com
URSULINE
Class of 2009
Information on Ursuline High School's Class of 2009:
Graduates: 109.
Those receiving academic and/or athletic scholarships: 69.
Colors: Green and gold.
Sports team nickname: The Fighting Irish. Source: Ursuline High School
By SEAN BARRON
VINDICATOR CORRESPONDENT
Cardinal Mooney Commencement

Video
YOUNGSTOWN — One high school memory that will likely stay with Tricia Oskorip will be the unusual way she viewed many pep rallies, football games and other special events.
She saw many such occasions wearing, among other things, a beak — and through the eyes of a bulky cardinal mascot outfit.
A white cap and gown, not a uniform complemented with faux feathers, was the operative wardrobe Osk orip found herself in at Saturday's commencement at Stambaugh Auditorium for Cardinal Mooney High School's Class of 2009.
"I had to run around the gym a lot, and Mr. Rair told me, 'You're the best cardinal they've ever had,'" she said with a chuckle, referring to psychology teacher Randy Raid.
Her plans include enrolling at Youngstown State University in August to major in special-education, with a long-term goal of working with those who suffer mild and moderate disabilities.
But first, it will be quality time with friends.
"I'll try to see friends as much as possible before we go our separate ways, and celebrate," she added.
"It's great to take it all in," said Chris Daprile, who plans to attend the University of Michigan in Ann Arbor. He also hopes to obtain a business degree, though his career choice is undecided.
Meanwhile, the time will soon come to enjoy the summer, and he intends to spend much of it at a cottage in Madison-on-the-Lake, just off Lake Erie, as well as working and golfing.
Fond memories will probably include being part of Ernie Formichelli's AP History class, which he took for college credit, he said.
Giving the keynote address to the 160 graduates — 100 of whom are members of National Honor Society — was Dr. Joseph Zeno, a 1987 Mooney graduate who attended Bowling Green and Ohio State universities.
It's natural for graduates to wonder about their futures and the impact they will have on the world. Nevertheless, they need to prepare for a journey that will be filled with happiness, success and triumph, yet some sorrow, setbacks and failure, said Zeno, who's also assistant professor of internal medicine at the Northeast Ohio Universities College of Medicine and Pharmacy.
The three constants the graduates can rely on, though, are God, family and friends, the positive effects of which can be lifelong, and can leave an indelible, powerful imprint on their journeys, he told the packed auditorium.
It's unlikely many graduates will become famous, but they can leave their mark by excelling at more everyday endeavors, Zeno noted.
"We must make an impact doing simple things very well," such as working hard, building good family relationships and supporting Catholic parishes, he continued.
The 90-minute ceremony also included remarks by Mooney's principal, Sister Jane Marie Kudlacz, and assistant principal, James M. Cooney.
CARDINAL MOONEY
Class of 2009
Information on Cardinal Mooney High School's Class of 2009:
Graduates: 160.
Mascot: The Cardinals.
Colors: Red and gold.
Song: "Peace, My Friends,' - a liturgical song.
Source: Cardinal Mooney High School