A promising Youngstown future based on a trip back
Sojourn To The Past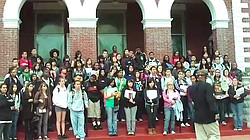 Video
Youngstown students visit Civil Rights landmarks during Sojourn To The Past trip.
By Todd Franko
The events of the closing school year will no doubt open the mind to memories that will last a lifetime.
But events of this year also could change a lifetime for several Youngstown students.
Superintendent Wendy Webb recognizes it.
It brought her to tears — unabashed tears, the kind that require glasses to be removed and fingers to wipe away.
Changing lives is the mission behind "Sojourn to the Past."
It's a humble effort launched by Jeff Steinberg, a California high school teacher. "Sojourn" places high school students in the footsteps of some of the most infamous and notorious events of American history by retracing key events in the civil-rights movement.
They are familiar footsteps for retired Youngstown teacher Penny Wells.
In 1966, she took part in what's now known as the Meredith March, organized by Dr. Martin Luther King Jr.
Today, she's made it her calling to ensure Youngstown has a presence at Steinberg's annual event.
This year, six students from city schools took part in the 10-day trip: Early College's Courtney Martin and Greg Jones, Chaney's Justin Kalinay, Aja Glover and Janae Ward, and East's Malcolm Brown.
"I'm going to spread the word," said Jones. "What people went through so we would not have to experience — it was just amazing."
To hear the places the students visited and people they studied, you don't have to work hard to know the history they experienced:
Selma, the Edmund Pettus Bridge and Bloody Sunday; Ebenezer Baptist Church; 16th Street Baptist Church bombing; Medgar Evers; Central High in Little Rock; the Lorraine Motel.
Wells believes historians will eventually come to realize this period of America as one of the more influential periods of our time.
"I believe the civil-rights movement changed the course of our history," Wells said. "When you look at rights for women, rights for disabled people; it all has evolved from the civil-rights movement."
The April trip was Wells' third year taking Youngstown students. In 2008, she was able to take 12. Her first year, in 2007, she took seven.
Money is her big challenge. The trip costs each student approximately $2,500. While the district clears the way for her in terms of student time off and organizing efforts, there are no district funds to make this happen.
Wells the activist becomes Wells the fundraiser.
"I've never been a fundraiser. I've never asked for money. But here I am," Wells said. "This 'Sojourn to the Past' is destiny, and God has put it right here for me."
Donors of all sizes and fundraising events of the same have paid the way for the kids. Wells has always paid her way.
And what goes out comes back — at least that's the hope, anyway.
"I'm sitting around doing nothing about spreading the nonviolence word," said Jones. "Robert Kennedy was spreading the word, and he was not even African-American. I can do that. I can complete the dream. I see a lot of violence. Now I can say something and get people to listen, and it will have a snowball effect."
The students — all underclassmen but one — brought action plans to Webb. Next school year, they aim to have a nonviolence week in school, a positive-message board aided by a positive-message T-shirt campaign and voter registrations and voter education sessions.
Student presentations don't often prompt tears from adult onlookers.
This one did, and there were several adults in the room.
This wasn't a class lesson. This was a life lesson.
Amid tears, Webb implored the kids to follow through.
"You guys have to pay it forward," she said. "No one's coming in here to save Youngstown. We have to save it."