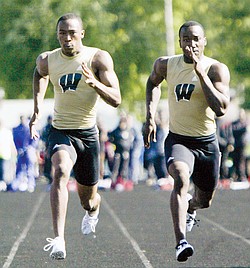 Photo
Harding's DeAver Williamson, left, edges out Harding's Joseph Threats to win boys 100-meter dash Friday, May 29, at Austintown Fitch.
REGIONAL COMPETITION
The Raiders outscored two traditional powers
By ERIC HAMILTON
Vindicator Correspondent
AUSTINTOWN — Since 2003, the winner of the Division I boys track regional has gone on to win the state championship. That's great news for Warren Harding.
The Raiders dominated the sprinting events and knocked off state powers Cleveland Glenville and Cleveland Heights to win the school's first regional title on Friday at Fitch Stadium.
Glenville and Cleveland Heights have combined for the last six regional titles, but Harding ended that streak by winning the 4x100 and 4x200 relays, the 100 and 200 meters, the 110 hurdles, and taking second in the 300 hurdles and fourth in the 100.
The Raiders won the meet with 68.5 points, while Glenville finished with 60 points.
"We've looked up to Glenville and respect the program they have built over there, but we're tired of them coming down here and expecting to win every year," said Harding coach Charles Penny. "We knew we had a special team this year and we talked about making a statement today and I think we did.
"We have a great group of kids and they have worked hard. Our schedule really prepared us for a meet like this and for a state meet environment next week. We've just been focused all year and we'll be in a position in Columbus to maybe do something really special."
Mitchell Seawood got things started with a regional title in the 110 hurdles. Deaver Williamson and Joe Threats advanced to state by taking first and fourth in the 100 meters.
Harding followed those performances up by winning both the 4x100 and 4x200 relays, besting Glenville in both events.
Marvin Logan punched his ticket to Columbus by finishing second in the 300 hurdles and Williamson finished things off by winning his second individual title of the meet, taking the 200.
"We worked hard all year for this," said Williamson. "Last year it was more like you do your thing and I'll do mine, but this year we were together. We are focused and feel like we're the team to beat this year."
Logan, who runs on both Harding relays that advanced, believes a regional title is just the beginning.
"We're ready to make some noise in Columbus," he said. "When you strive for greatness and you attain it, it feels great. We trained hard when we knew our competition was sleeping. We set our goals high."
The Boardman boys squad is primed to make a bid for a top 10 team finish in Columbus after finishing fourth at the regional.
Corey Linsley, who had previously qualified in the discus, took second in the shot put Friday. His teammate Alex Lipinsky will share the ring with him at state after earning the fourth and final spot.
Boardman's Caleb Matthews finished fourth in the 110 hurdles to ensure that he'll compete in two state meet events. He qualified in the long jump on Wednesday.
Canfield's Dustin Brode will look to improve on his eighth-place finish at state in 2008, after taking the regional title with a throw of 61-10 º.
Chaney's Myke Parker will make the trip to Columbus after finishing fourth in the 400, and East qualified in both the 4x100 and 4x200 relays.
Three local girls will be competing at the state meet for the first time after placing in the top four in the finals.
Howland standout Nicole Pachol ran the race of her life in the 300 hurdles, knocking off defending state champion Amber Smith of Cleveland Collinwood. Pachol broke the school and regional record with a blistering time of 41.86, beating the previous meet mark of 42.26 in 1999.
"I'm in shock — I can't believe this just happened," said Pachol, who will also compete in Columbus in the 100 hurdles after taking third. "I knew she [Smith] would gain on me in the curve, but I just kicked in a little something extra.
"People don't understand how hard I've been working — training right, eating right and sleeping right. All the hard work is paying off and I can't ask for anything more right now."
Pachol missed all of 2008 after having hip surgery. The reigning Miss Dance Ohio is hoping to add another state title to her credit — this one on the track.
"It's been a tough year, but my Mom [Renee] and family have really supported me," said Pachol. "Her and I are like friends and she's been there for me to talk to about track or stuff not even about track. I couldn't ask for a better mom."
Chaney's Shatasia Walker will join Pachol in Columbus in the 100 hurdles after taking the fourth qualifying spot.
"I wanted it so bad," said the sophomore hurdler. "I trained harder this year and got my time down. I feel so blessed and thankful to have made it. As long as I go down there and do the best I can do, I'll wear a smile on my face."
Fitch sophomore Ali Tolich, who finished fourth in the discus on Wednesday, won the regional shot put title Friday to move on to state in both events.
"I was disappointed when I didn't win discus, but I'm happy I won today," said Tolich. "It's going to be a lot of fun next week."